Becca & Adrian's wedding blended Disney magic, celestial details and their culture in beautiful and meaningful ways. From incorporating the couple's star signs in Becca's wedding gown, to switching languages during their wedding ceremony, to uniquely Disney details throughout their wedding decor - Becca and Adrian's Disney wedding was a true fairy tale.
Becca shared that she had been dreaming of a
Disney's Fairy Tale Wedding
for years and Adrian always hoped for a wedding in Hawaii, so
Aulani, a Disney Resort & Spa
paired perfectly with their unique wedding visions and became their ideal wedding destination. Setting the scene for an unforgettable week of celebrations.
"Our favorite part was getting to spend the entire week leading up to the day with our friends and family who flew all the way to Hawaii to attend. We had many events leading up to the big day, and by the wedding itself, most of our friends and family knew each other. It really felt like an intimate gathering of our big Ohana."
Becca and Adrian's wedding style reflected their wedding vision and honored their unique theme. Adrian wore a traditional
maile lei
and Becca wore a stunning braid inspired by Rapunzel and Elsa and adorned with celestial hair clips. Becca's wedding dress even had hidden constellations throughout the design, including both her and Adrian's star signs.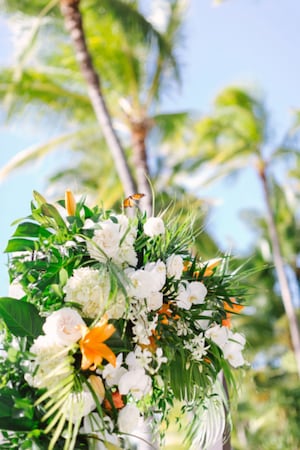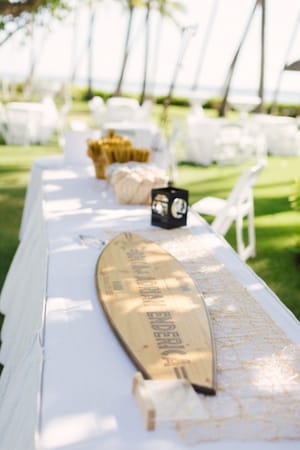 The couple hosted their wedding ceremony and reception at
Lanikuhonua
. With breathtaking ocean and mountain views, Lanikuhonua is overflowing with Hawaiian history and natural beauty.
Taking full advantage of the expansive open-aired lawn, the couple added a clear tent so wedding guests could dance under the stars, cozy seating areas under the palm trees, and unique photo-ops like the "ALOHA" lettered sign with the ocean as the backdrop.
Becca and Adrian's Disney wedding ceremony decor included a beautiful arch overlooking the ocean and adorned with tropical floral and palm fronds. An
ethereal harp
filled the air, and a conch was blown to mark the beginning of the wedding ceremony.
The couple shared that, "we wanted to capture the beauty and richness of the history of Hawaii in our wedding ceremony which our officiant blended perfectly with Adrian's Ecuadorian background, he spoke seamlessly switching among English, Spanish, and Hawaiian."
Following their wedding ceremony, Becca and Adrian captured picture-perfect portraits. Becca recalls one of her "favorite moments of the day was privately taking photos on the rocky part of the beach, having a moment just to truly look at him, seeing my new husband glowing in the amazing Ko Olina sunset and knowing that I get to keep him forever."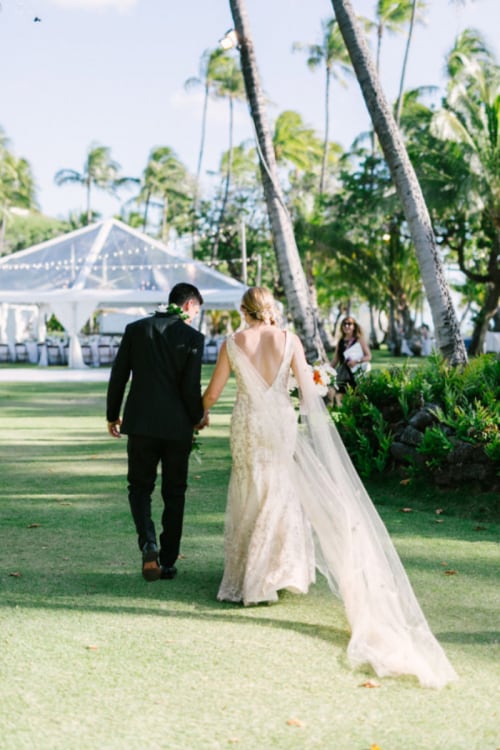 Under the canopy of their wedding tent, Becca and Adrian treated their wedding guests to a memorable reception under the stars and even included a surprise and delight performance. "We were so fortunate to have a luau performance to treat our guests to a blend of Hawaiian and Polynesian culture" shared the bride and groom.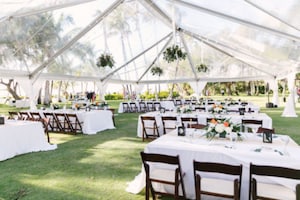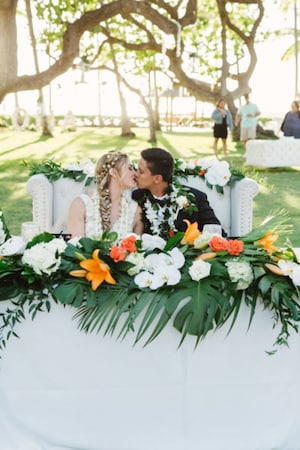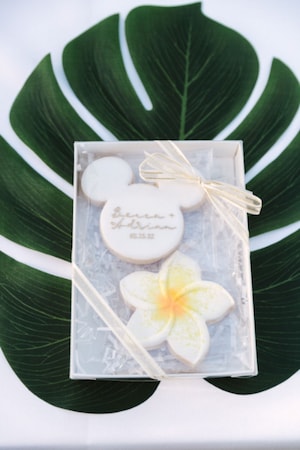 To cap off their wedding day, the couple and their guests danced the night away under the glow of twinkle lights. Adrian shared that their Disney Wedding was "nothing short of perfect: the weather, the venue, the food, the luau entertainment, and even the waves breaking in the background."