When Kimberly was four years old, her parents took her to Disneyland in California for the very first time, where she happened to see Cinderella's Crystal Coach on its way to the Rose Court Garden for a Disney Wedding. She told her parents she would get married there one day. She shared that over the years, they would visit Rose Court Garden every time they visited. Years later, Kimberly had her very own fairy tale amidst the lush greenery of Disneyland Resort's wedding venue.
One of the couple's favorite movies is the 2015 live action Cinderella, so much of their special day held inspiration from the movie. From their color palette to wedding transportation, entertainment and culinary, Kimberly and Dominic were able to honor the beloved film in elevated and magical ways.
Kimberly arrived in Cinderella's Crystal Coach in true princess fashion, where the Rose Court Garden was transformed into a true "secret garden" full of pink and white roses and a white petal toss. Just like Kit's Secret Garden from the live action Cinderella, Kimberly and Dominic's wedding ceremony surrounded them in vines and lush pink floral.
Kimberly shared that her favorite part of the day was holding hands during the wedding ceremony – they couldn't stop smiling at each other. Major Domo even acted as their ring bearer, presenting their rings in a glass slipper.
Following the breathtaking ceremony, the couple joined their guests at Disneyland Hotel's Sleeping Beauty Pavilion where their princess inspired wedding festivities continued. It was a true vision - the space canopied in sheer drapery covered in fairy lights with a gold chandelier in the center. It was all about the details, with table linens covered in pink embroidery, gold Chiavari chairs, floating candle centerpieces, and a Cinderella-inspired wedding cake. Even the table names were Princess-inspired, marked by different Disney love stories - from Mickey and Minnie Mouse to Aladdin and Jasmine, and more.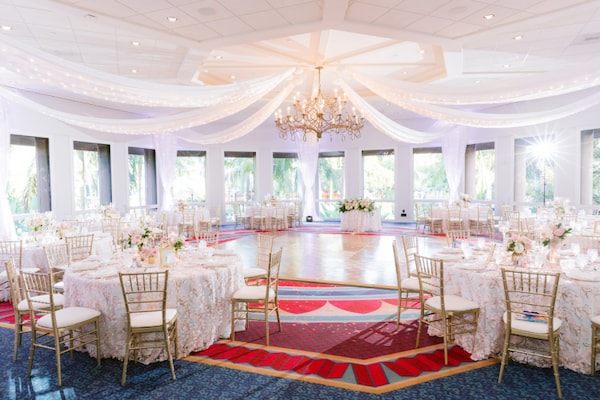 The couple shared that the first dance was incredibly important to them, they learned the iconic dance from the 2015 Cinderella movie and practiced it over and over. It was a memory they both cherished very deeply. A true princess moment!
Dominic and Kimberly described their Disney Wedding as a "garden fairy tale" and we couldn't think of a more perfect way to describe it. From transformed spaces to all the little details in between, Dominic and Kimberly had a dream fairy tale wedding to remember forever.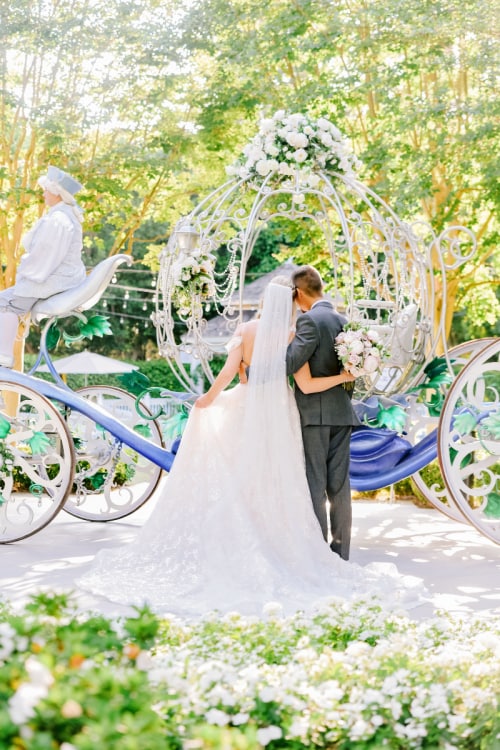 And you can too! Request a brochure to begin your own journey to a Disney's Fairy Tale Wedding of your dreams.