Disney's Grand Californian Hotel & Spa set the scene for Lindsey and Matt's bohemian, woodland Disney wedding. The immersive resort, with its craftsman-style elegance and towering trees, matched the couple's unique wedding vision and brought their love story to life in a way that felt authentic and special to them.
Lindsey and Matt grew their relationship, in part, around their love of the outdoors. Whether it was Matt learning to woodwork and landscape so he could build a beautiful garden for Lindsey, or their romantic outdoor proposal at a Japanese garden—they knew they wanted to celebrate their marriage in the outdoors.
Because of their shared love of nature, Brisa Courtyard was the perfect venue for their wedding festivities. The venue, surrounded by pine trees and lush greenery, allowed Lindsey and Matt to host their ceremony and reception in the same area—providing an immersive and intimate experience for their wedding guests.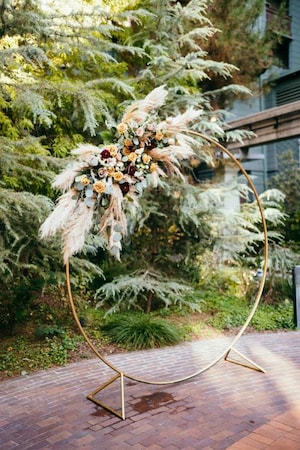 Partnering with Disney Floral and their Disney Wedding Planner, Lindsey and Matt were able to share their vision for their wedding décor. Influenced by bohemian aesthetics and natural textures, we lined the aisle with bouquets of pampas grass, and added a circular gold arch with boho floral and autumnal colored roses.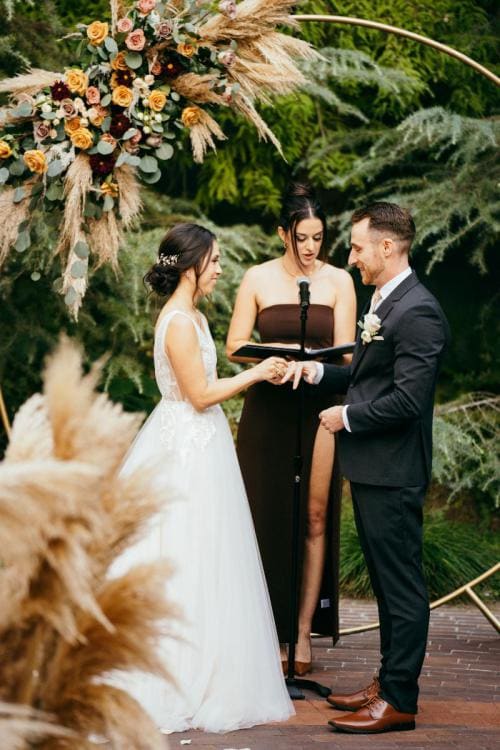 Following their wedding ceremony, the couple and their guests took a few steps towards the other end of Brisa Courtyard to celebrate the wedding reception.
Lindsey described her décor vision: "florals and greenery were muted with fall and gold accents. Long wooden tables covered in candles gave it a romantic and intimate feel. At night, most of the lighting came from candlelight which gave a cozy atmosphere."
Lindsey and Matt shared that "The most important aspect of the wedding day was the guest experience and visuals. We truly wanted the wedding to be for our combined friends and families, a fun and easy night."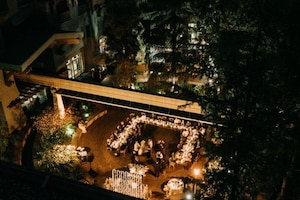 "Disneyland has always been a favorite vacation destination for both of our families. Our vision for our wedding was a fun, relaxed trip with our closest friends and family. Disney is also known for its superior service and "magical" quality which is perfect for such a special occasion. It was wonderful to have our wedding and the following days spent in a place so dear to us and everyone we were with."
We are so happy to have been a part of Lindsey and Matt's breathtaking Disney Wedding and with them love and happiness in their marriage!
To begin the process of bringing your own vision to life with Disney Fairy Tale Weddings, request a digital brochure or contact us.
Photos courtesy of Jim Kennedy Photographers.