For Lena and Chris, finding a non-traditional and immersive destination for their wedding was essential. After searching for the perfect wedding venue for months, they finally called our Disney Weddings team. One phone call later, despite never having visited Walt Disney World, Lena and Chris were on their way to planning their very own fairy tale wedding.
They shared that "The most important aspect was giving our guests a quintessential Walt Disney World experience. Since this was a destination wedding and most of our guests had never been to Walt Disney World before, we really wanted to go above and beyond for them."
Their multi-event wedding experience included magical venues, delicious menus, and unique entertainment. Keep scrolling for their full wedding recap!
Their wedding celebration started with a Welcome Party at Trader Sam's Grog Grotto. Together with their Disney Culinary team, the couple curated the menu to include some of their new-found favorite foods from around the parks and resorts.
Their wedding day started inside Magic Kingdom, with no guests around, where they shared a picture-perfect first look in front of Cinderella Castle. From there, they got to explore Magic Kingdom and capture the most epic wedding portraits.
Following their Magic Kingdom Portrait Session, the couple arrived to Disney's Grand Floridian Resort & Spa, where there wedding ceremony and recaption would take place. Taking advantage of all the stunning backdrops for wedding photos.
Lena and Chris chose the iconic Disney's Wedding Pavilion. This stunning venue sits on Seven Seas Lagoon and offers a dreamy view of Cinderella Castle through the beautiful stained glass windows.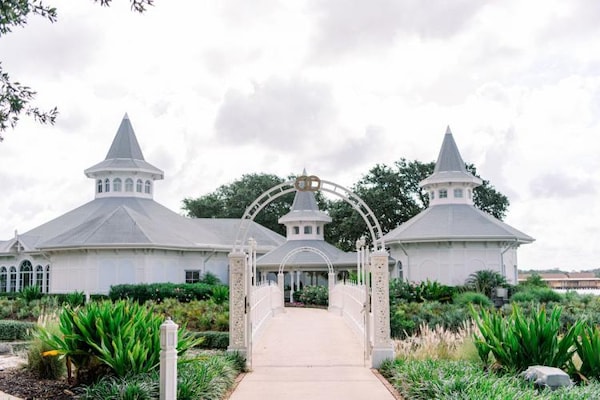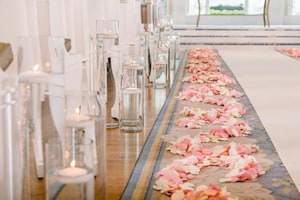 Lena shared that "The Wedding Pavilion on its own was so beautiful and we wanted to keep the decor simplistic. We added a custom runner, floating candles, and swirled petals. We decided on pastel colors for the wedding to complement the Wedding Pavilion and St. Augustine's Ballroom in the Grand Floridian."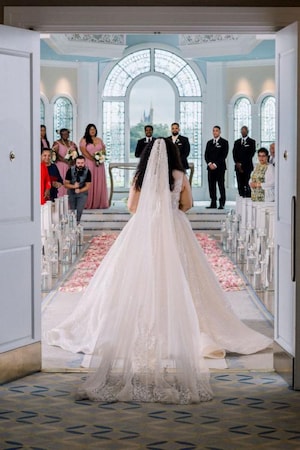 Following their breathtaking wedding ceremony, Lena and Chris hosted their brunch wedding reception at Disney's Grand Floridian Resort Ballrooms. Inspired by the venue, Lena and Chris embraced the colors and theming of the resort throughout their floral and décor.
Did you know, couples hosting a Disney Wedding with a full reception, have the opportunity to book an exclusive group menu tasting experience where they try an assortment of foods and beverages and can speak with expert Disney Cast Members on the Disney Weddings team like Wedding Planners and culinary chefs?
Lena and Chris shared that their menu tasting experience inspired much of their curated wedding menu items.
As a surprise and delight moment for their wedding guests, Lena and Chris invited Mickey and Minnie Mouse to visit their reception—joining the guests on the dance floor and for a few photo worthy wedding-day moments.
As another way to enhance their guests' experience and create unforgettable wedding day memories, the couple added a firework dessert party to their wedding day itinerary! From a special firework viewing location to sweet and savory treats—this is a great way to create a truly memorable wedding day experience.
Lena and Chris chose all of their favorite snacks from the Disney Parks like Mickey Pretzels, Buffalo Spring Rolls, and Cheeseburger Pods to serve their guests. But, the surprises didn't end there!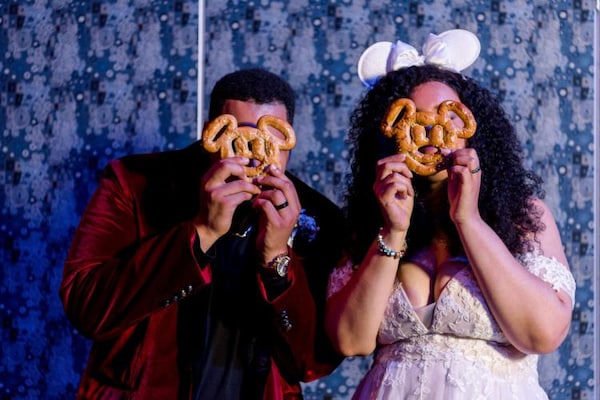 As another surprise for their wedding guests, Lena and Chris added an attraction mix-in. After the fireworks, everyone headed over to Frozen Ever After for an exclusive ride. Lena shared that "While the wedding was overall about us, we wanted to give everyone a fun and memorable time."
Further soaking in everything that makes a Disney Wedding so unique, Lena & Chris also booked a specialty Park Portrait Session with Disney Fine Art Photography in EPCOT, an experience that is exclusive to couples who host their wedding with Disney's Fairy Tale Weddings.
Lena shared that "Our event described in one word was breathtaking. The wedding staff did such a great job capturing our vision, and made it even better than we imagined it could ever be. Everything down to the fine little details was handled so beautifully and everyone was a pleasure to work with."
We could not be happier for Lena & Chris and their breathtaking Disney Wedding.
To begin planning your own Disney Wedding experience for you and your guests, request a digital brochure or contact us.
Photos courtesy of Disney Fine Art Photography and Bella Allure Imagery.