Mailia and James met as Cast Members making magic at the Disneyland Resort. Their love of Disney brought them together, so hosting their special day with Disney's Fairy Tale Weddings brought their story full circle. James had been to Aulani – A Disney Resort & Spa in 2013 and knew then that he wanted to get married there one day. Mailia's family lives in Hawaii, so a Hawaii wedding was perfect.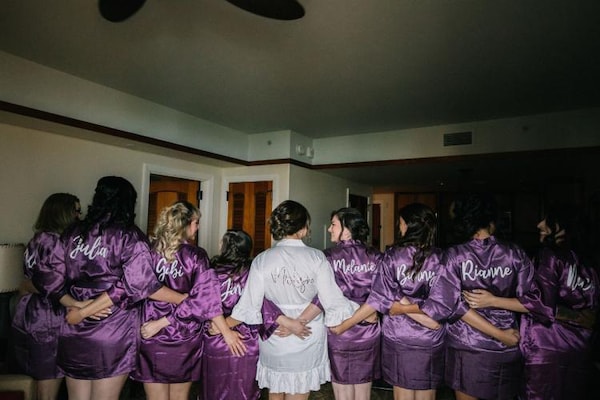 After getting ready in their Resort rooms, the couple hosted their breathtaking wedding ceremony at the picturesque Halawai Lawn surrounded by tropical foliage. Their beautiful altar arch included white drapery, palm fronds, and an assortment of flowers in orange and purple hues.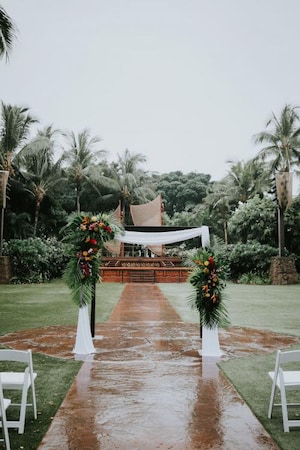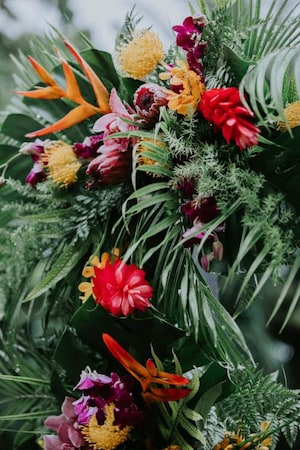 Mailia's trip down the aisle was authentic and emotional as the couple saw each other for the first time.
The wedding ceremony was full of love, with the gifting of leis for the couple's family members and a heartfelt exchange of vows.
James described their wedding as a "homage to Mailia's Hawaiian and Filipino culture, mixed with the love and respect we've had for our Disney family." He shared that their wedding felt "just like the movies," with "soft rain on the greenery lawn, Disney love songs played on the ukulele, a beautiful sermon and share of Hawaii, and a photo finish with the PA system having us announced and watching all the families on their balconies congratulating us on our nuptials. It was more picture perfect than I could have ever imagined."
After a joyous first kiss, the couple celebrated together with intimate time taking photos around the Resort and on the island's beautiful beaches, before joining their guests at Ka'ala Ballroom for their wedding reception.
Their reception was a true celebration, with dancing and plenty of little Disney touches – including Aulani's delicious Mickey-shaped Furkikake Musubi!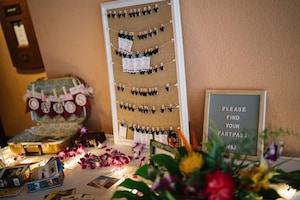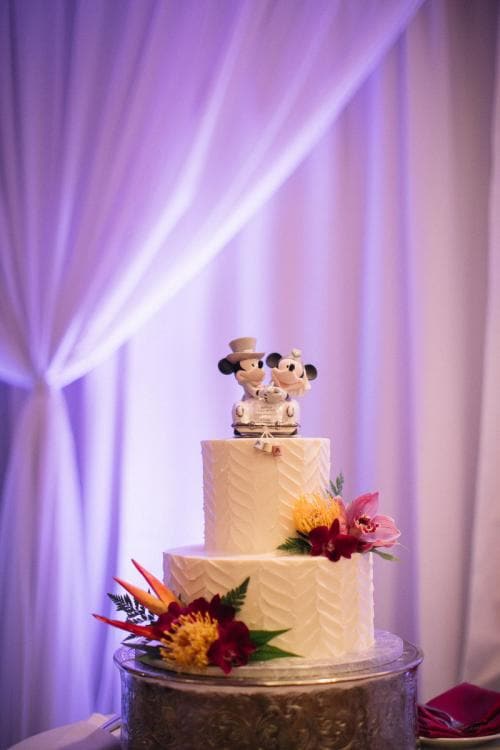 They even had a fun selfie wall photo booth for their guests!
Mailia and James shared that the most important aspect of their wedding day was their family. James shared that "Making those accommodations whether it was wheelchair accessibility for Mailia's Grandma or room accommodations for my family flying in, we wanted to make sure everyone was comfortable, and most importantly, having fun! And we truly felt the love on our wedding day and could not be more grateful!"
Wishing a lifetime of happiness to the beautiful couple! We are so happy to have been a part of their special day!
To begin planning your own Disney dream wedding, request a digital brochure or contact us.