A full wedding week recap of the galactic inspired wedding celebration featured on Good Morning America.
As the busiest wedding month of this year comes to a close, and we look ahead to the start of engagement season, we're seeing a rise in popularity for a full "Wedding Week" of festivities. Which can include multiple events, themed dress codes, meet-ups with friends and family, all culminating with an immersive wedding ceremony at an epic backdrop.
Brooke and Jared's wedding, which was celebrated LIVE on Good Morning America, encapsulated many of these emerging trends. We're breaking down their "Wedding Week" celebrations and sharing how you can incorporate some of these experiences at your own Disney wedding.
Have a Theme
Brooke and Jared's wedding theme was inspired by their passion and interest for space. They met in a science lab at college and now both work on space shuttles! From their engagement at the Kennedy Space Center to multiple dates to watch the rocket launches—it just made sense that their wedding should have a celestial theme. Their wedding theme was incorporated into every moment of their wedding week experience—from their venue, to their attire.
Stay Together
Create a festive environment by staying close in proximity to your loved ones. Brooke and Jared had a room block for their wedding guests at Disney's Coronado Springs Resort. They were able to greet their guests as they arrived, and relax with their family and friends throughout the week—from pool days, to a drink at the bar, staying close allows for organic and celebratory moments to occur all throughout the week.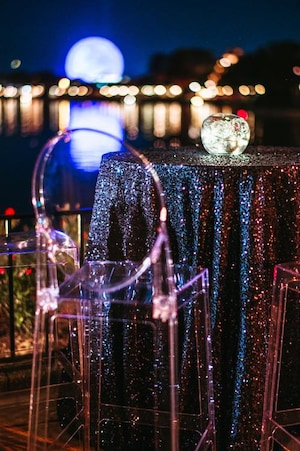 Host a Welcome Party
Find a way to say hello to your wedding guests and bring everyone together before the big day—whether that's a causal meet up or a formal event! Brooke and Jared chose to host their welcome party at EPCOT, which would be the backdrop for all their wedding events. They continued the galactic theme with navy sequined linen and celestial inspired centerpieces. They even incorporated the theme into their wedding menu—like their space themed cocktail which was served in a cosmos Corkcicle (also a fun favor for their guests)! Brooke and Jared were able to mix and mingle with their loved ones and then enjoy a magical viewing of Harmonious together.
Surprise & Delight Your Guests
Create a truly festive experience by surprising and delighting your guests all week long! Brooke and Jared did this by adding an attraction mix-in where all their guests were able to ride Guardians of the Galaxy: Cosmic Rewind as a grand finale to their welcome party. They also surprised their guests with a visit from Mickey and Minnie Mouse! No matter how big or small, finding ways to enchant your guests will add in creating an experience guests will never forget.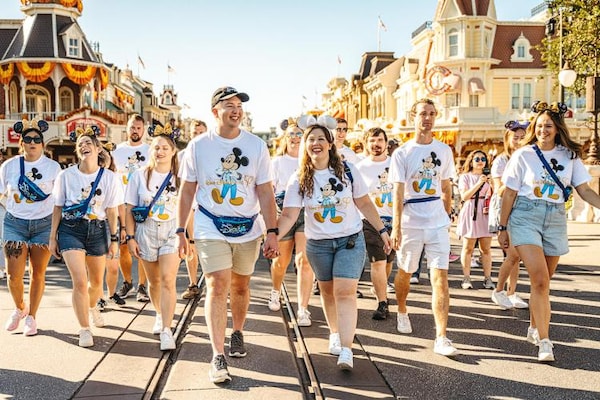 Look the Part
We love a wedding week dress code! Inspire your guests to embrace the theme and create a communal experience by coordinating outfits, or even just wear bridal or groom specific attire. Brooke and Jared's wedding party embraced the dress code trend with matching outfits for their day at Magic Kingdom. For the wedding day, Brooke and Jared's guests wore formal attire in celestial color palettes—like blue, purple, and sparkle.
Picture Perfect Moments
Now more than ever, couples are seeking picture-perfect moments to capture those epic portraits that they can share on social media and display in their homes for years to come. At Walt Disney World there are limitless amount of backdrops for stunning wedding photos. Brooke and Jared tapped into a location that epitomized their wedding theme for their first look—Mission:SPACE. And, the photos are stunning!
Immersive Settings
Transport your guests and engage their senses to create an unforgettable wedding experience. Start with your venue—Brooke and Jared chose Spaceship Earth as the setting for their ceremony, this iconic celestial environment was a perfect match for their wedding theme. Their décor found inspiration from the night sky with soft velvet ottomans, a dancing star-studded aisle runner, floral dyed to match the galactic color scheme, fog effects, live music and an epic sparkler moment—all contributed to creating an environment that helped guests stay present and immersed in the moment.
An Epic Farewell
Finally, don't forget to make the ending of an incredible week of wedding festivities special. Whether it's an intimate day-after brunch with your guests, or waving goodbye from a cool car—don't let this moment pass! Brooke and Jared ended their wedding week by driving off in a silver Cadillac convertible, waving to friends, family…and Disney Park guests too.
Interested in learning more about planning a Disney wedding? Download our digital brochure or contact our team. Find more wedding inspiration on our blog!