"I had a clear vision that I wanted to have a wedding inspired by the 1942 Best Picture of The Year, Casablanca. When I was searching various venues in the area, I would describe the aesthetic we were looking to find in order to capture the heart and soul of Rick's Cafe (from the film) as 'Brown Derby-esk' as I would put it. Then after we visited about our 15th venue with no hope in sight, my future husband looked at me and said 'Why don't we just get married at the Brown Derby?'. A shocking concept I hadn't thought of in all my preplanning. Then we were immediately on our way to a Fairy Tale Wedding."
The vintage and glamorous Tower of Terror Hotel set the scene for the evening's celebrations, before ending the night with intimate and immersive reception at the Brown Derby. The couple embraced the "Casablanca" theming through their floral, décor and even the wedding party's attire!
Dannon shared that "The most important aspect of our wedding was trying to really be present for the event. We added a moment in the ceremony where my husband and I could turn and look at all of the people who had traveled to spend this night with us… It was important to us to not get lost in the details and chaos of the day and remember that this moment will never come again and we needed to be wholly invested in the experience rather than the exterior forces you can't control."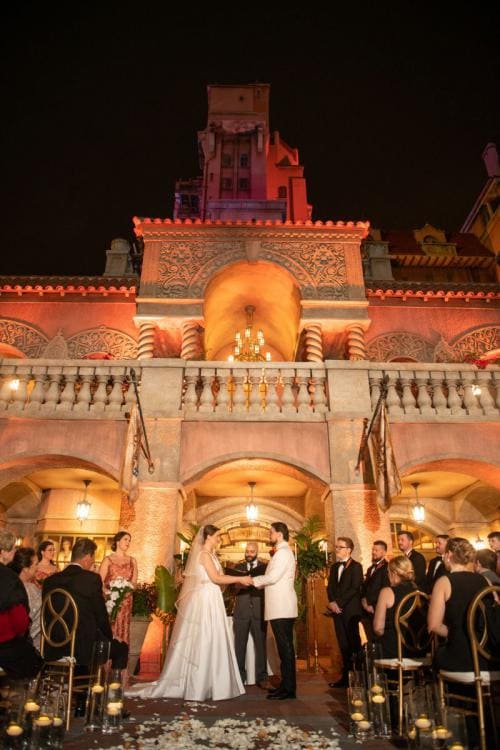 Following their wedding ceremony and keeping with the Old Hollywood theme, the couple hosted their wedding reception at the Brown Derby Restaurant. Dannon shared that "We focused on settled antique attributes, gold/ivory, soft light, glass, and subtle Moroccan influences to bring Rick's Cafe to life. Our party was very intimate with tropical greens and leaning into the dark woods and unique architecture of both the Brown Derby and the courtyard of the Tower of Terror."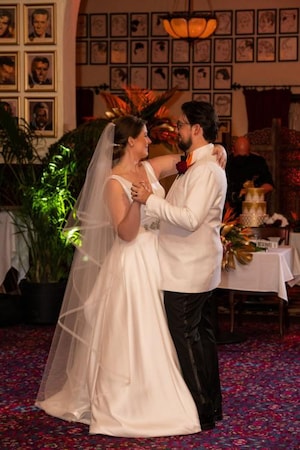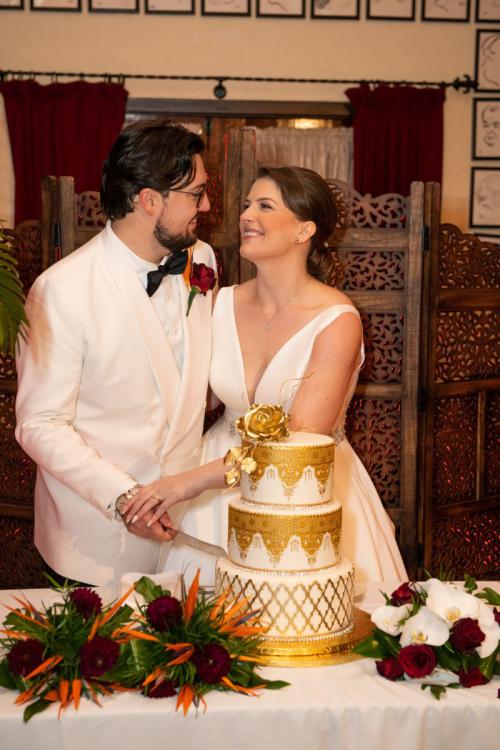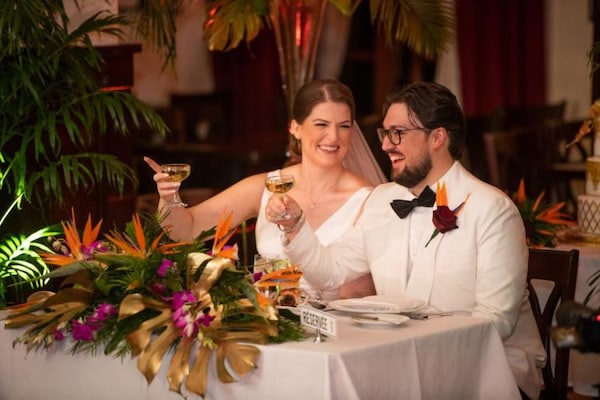 The couple even had a caricature of the two of them on display at their wedding reception to match the many famous caricatures lining the walls of the restaurant.
By choosing a 6-piece band to entertain their guests in the evening, Dannon & Chris reception was truly a celebration.
To cap off the night, the couple explored Disney's Hollywood Studios, taking stunning portraits around the park and soaking in the just-married bliss.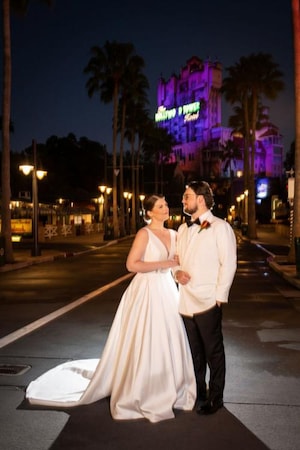 Dannon described their wedding as "classic and timeless, capturing the essence of a time long gone." And we couldn't have said it any better.
With Disney's Fairy Tale Weddings, the sky is the limit. To begin exploring venues and planning a wedding that matches your unique vision, request a brochure or contact us.
Photos courtesy of Disney Fine Art Photography.