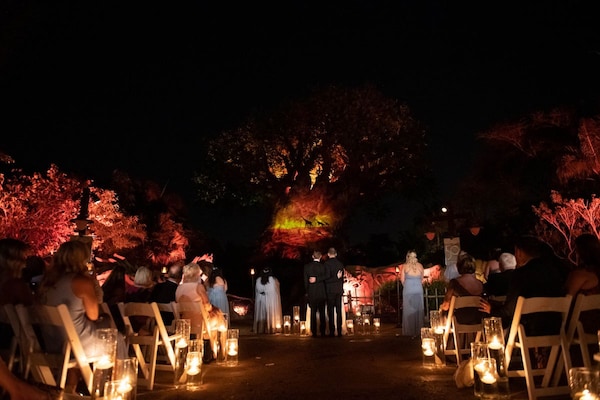 Adam & Andrew hosted an unforgettable multi-day Disney Wedding experience at Walt Disney World. From Disney park days, bachelor parties at Disney Springs, a rehearsal dinner, private in-park ceremony and reception—their fairy tale wedding was immersive, exciting, and filled with unique and magical moments.
Disney's Animal Kingdom set the scene for Adam and Andrew's wedding day. Traveling throughout the Park, from Tamu Tamu Courtyard for their pre-ceremony dinner, to the Tree of Life for their wedding ceremony, and capping off the night at Nomad Lounge for dancing and celebrations.
DINNER AT TAMU TAMU COURTYARD
To begin the evening of wedding festivities, a dinner was hosted inside the intimate Tamu Tamu Courtyard, hidden away in Harambe Village at Disney's Animal Kingdom. This idyllic venue is accessed through oversized wooden doors, inside wedding guests are immersed in a tree-shrouded courtyard, hanging string lights provide a romantic ambiance—making it a dreamy setting for a wedding dinner.
Hosting a pre-ceremony dinner, though non-traditional, allowed Adam and Andrew the opportunity to begin the day in celebration—greeting their guests and reminiscing on their love story with friends and family. The setting was picturesque with white string lights, floating candles, and bouquets of pampas grass.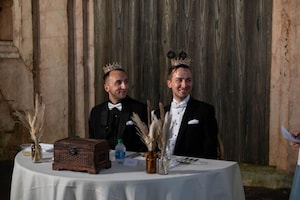 CEREMONY AT THE TREE OF LIFE
Following their pre-ceremony dinner at Tamu Tamu Courtyard, the couple and their wedding guests travelled to the to the heart of Disney's Animal Kingdom for the wedding ceremony in front of the Tree of Life.
At Disney Weddings, our team loves transforming iconic Disney locations into immersive and beautiful wedding venues that reflect our couples' unique wedding vision.
Adam and Andrew shared that their favorite moment of the day was when "we left Tamu Tamu after dinner and began walking over to the Tree of Life for the ceremony. When we turned the corner and saw the Tree of Life area transformed, it took our breath away. The lighting, the magic, it was a spectacular sight to see when just a few hours before it was sunny and streaming with people. It was at that moment; we knew this was going to be a night to remember."
And their wedding ceremony was just that – with an immersive ambiance created by custom lighting on the trees and floating candles lining the aisle. As a surprise and delight for their guests, Adam and Andrew ended their wedding ceremony with an experience only possible in the Disney Parks, a special lighting projection displayed on the Tree of Life.
DANCING AT NOMAD LOUNGE
Following their beautiful ceremony, the couple and their guests celebrated with a wedding reception at Nomad Lounge & Cocktail Bar just steps away from the Tree of Life. The venue was perfect for dancing and celebrating, which the couple expressed was the most important aspect of the day to them. Their first dance together was a moment to remember, performing a 4-part ballroom dance medley that finished with the iconic song from the Lion King, "Can You Feel the Love Tonight."
Adam and Andrew's Disney Wedding took their guests on a journey through Disney's Animal Kingdom, creating a guest experience full of immersive venues and nighttime spectaculars only possible with Disney Weddings. It was a true celebration of love and Disney magic!
We could not be happier for Adam and Andrew and their truly eventful Disney Wedding at Disney's Animal Kingdom Theme Park.
To begin planning your own immersive Disney Wedding inside one of our Disney parks, request a digital brochure or contact us.
Photos courtesy of Disney's Fine Art Photography.