Your wedding venue—the place your family and friends will gather to celebrate your marriage, the backdrop to all the festivities, and the location that sets the scene for one of the most
unforgettable moments
of your life…
DISCOVER YOUR FAIRY TALE WEDDING VENUE WITH DISNEY
With countless Disney wedding venues across the globe, choosing a wedding venue that matches your aesthetic, transports you and your guests into a wedding theme, and is truly stunning—is possible!
From castles, to beaches, European courtyards, rose gardens, intimate gazebos, Hollywood boulevards and so much more, keep scrolling for a glimpse of the Disney wedding venues available for your big day.
TRAVEL
Dreaming of an international destination but don't want to require all your guests to have a passport, explore the World Showcase at EPCOT. From Italian courtyards, to a replica of the Temple of Heaven there's a variety of global settings to consider for your wedding.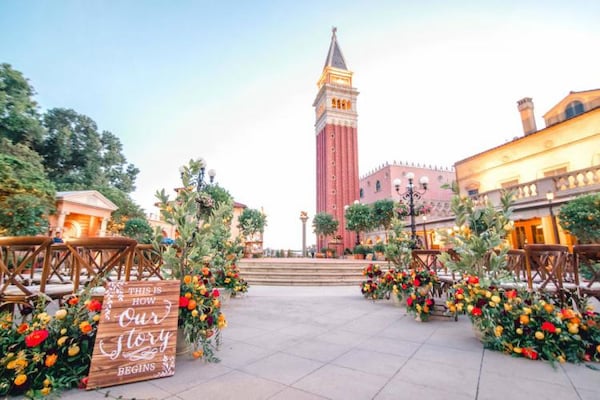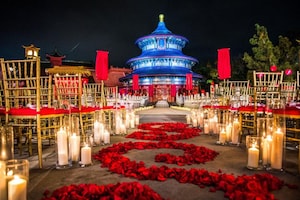 GAZEBOS
A charming gazebo is a timeless backdrop for wedding ceremonies. From rose gardens, to New-England style ambiance, find an idyllic wedding venue that matches your vision.
IMMERSIVE
Looking for something totally immersive for your wedding venue? There's no shortage of epic venues to choose from when hosting a wedding at Disney.
WATERFRONT
Say "I DO" with a pristine water-front view. From the ocean to the lakes, find a dreamy wedding venue with a picture-perfect view.
LAWNS
Lush green lawns are romantic and beautiful, setting the scene for a wonderful wedding day. From lawns surrounded by towering oak trees or towering palm trees, you're sure to find a venue to match your fairy tale.
CASTLES
For couples dreaming of a regal venue, consider one of the Disney castles. From the castle forecourt, to intimate manicured lawns with a castle view—there's many venues with a castle view to choose from.
COURTYARDS
Intimate yet expansive courtyards are stunning venues to set the scene for any wedding event. From tree enshrouded courtyards to ocean-front views, find the ideal backdrop to your Disney wedding.
BEACHES
If you're dream wedding day consists of your toes in the sand, then consider one of our beach wedding venues. From Disney's private island, Castaway Cay, to the sandy beaches of Hawaii, we've got multiple stunning beach venues to choose from.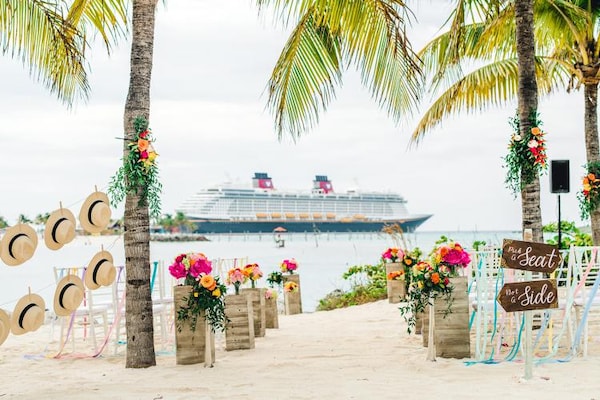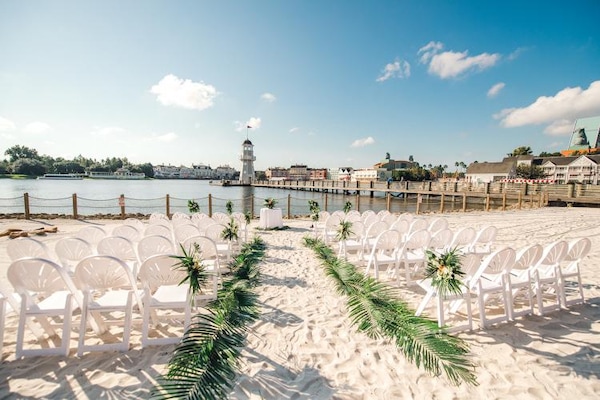 UNIQUELY DISNEY
Finally, for couples looking for a venue that's "uniquely Disney", there's iconic Disney backdrops that will make any wedding magical. From the Tree of Life, to Tower of Terror, Pixar Pier, Pandora, The World of Avatar, or Cars Land—there's a Disney wedding venue for you.
EXPLORE DISNEY WEDDING VENUES
Interested in learning more about Disney's Fairy Tale Weddings? Download our digital brochure, or contact us!