For some, there's a strong and beloved connection to the Disney brand that leads them to choose Disney's Fairy Tale Weddings, for others it's the opportunity to bring their unique fairy tale to life in a way only Disney can. Whether it's the chance to provide the ultimate wedding guest experience, or the ability to celebrate one of life's biggest romantic milestones in a place that holds significant meaning to them – couples choose Disney's Fairy Tale Weddings for many unique and special reasons.
If you're considering a wedding by Disney, we're sharing some tips and information that will help you decide if Disney's Fairy Tale Weddings is a good match for you.
Magical Destinations
From Hawaii, to Paris, Florida, California, Tokyo, Hong Kong, Shanghai and the high seas – Disney's Fairy Tale Weddings take place at magical destinations around the world. Offering incredible backdrops to wedding celebrations. From immersive resorts, to iconic theme parks, cruise ships, world-class dining and entertainment – these destinations set the scene for an unforgettable wedding week with family and friends.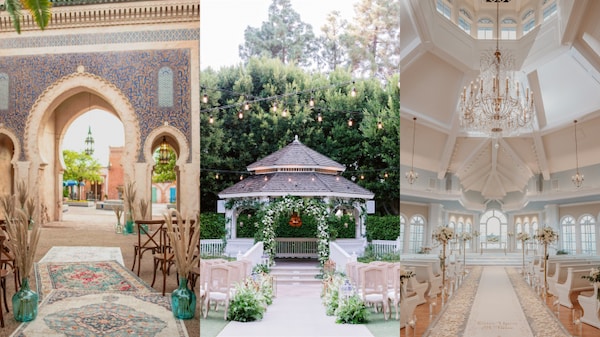 Immersive Wedding Venues
At Disney's Fairy Tale Weddings, we offer over 100 immersive and unique wedding venues around the globe. From Pandora, the World of Avatar, to Disney's private island, Castaway Cay, to Sleeping Beauty Castle, and even a replica of the Temple of Heaven. No matter a couple's wedding vision, there's a wedding venue to match.
Dedicated Wedding Planning Team
When it comes to planning a Disney wedding, every couple gets their very own dedicated wedding planning team committed to bringing their unique fairy tale to life. From initial conversations with their Disney Wedding Consultant to the Disney Wedding Planning team who help bring couples' wedding events to life with all of the resources needed to make their wedding dream come true. With a team of years of experience planning destination weddings, couples can enjoy the ease of planning with options for in-person planning experiences like menu tastings, to digital planning touch bases.
One-Stop-Shop
We like to refer to our wedding planning services as a one-stop-shop! From wedding planning to many other wedding services like floral, décor, entertainment, photography, culinary and more—we can take care of the details so couples can truly be a guest at their own wedding.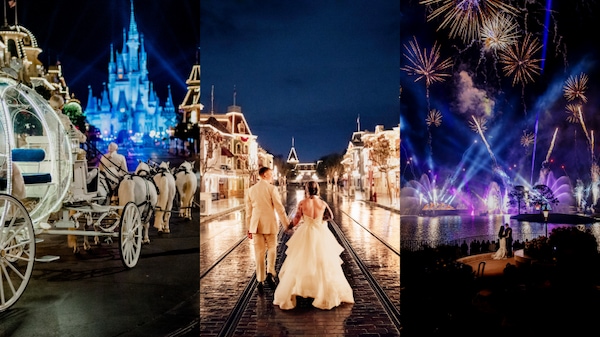 Unique Experiences
Couples who marry with Disney's Fairy Tale Weddings, have access to exclusive Disney experiences like special firework viewing with their wedding guests, riding their favorite Disney attraction during their reception, a wedding ceremony inside an empty Disney Park, unique Disney food and beverage, and even access to Disney entertainers like the Dapper Dans!
Group Vacation Experience
Another incredibly special thing about a Disney wedding is the opportunity to vacation with friends and family. Wedding guests travel from all over the world to attend a wedding, and at Disney, couples can know their guests will have a magical time during their wedding trip. From Disney parks, immersive resorts, world-class dining and more—there's so much to experience and enjoy with the ones you love most.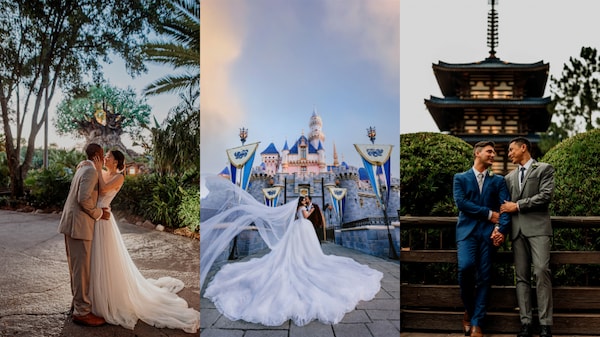 Park Portrait Sessions
Finally, one of the most exclusive and magical experiences only available to couples who host a wedding or vow renewal with Disney's Fairy Tale Weddings – are the wedding portrait sessions inside the Disney Parks. Enjoy the park while it's empty and capture picture-perfect moments in front of iconic and immersive settings.
Couples are seeking ways to emphasize and extend the preservation of the moment, adding appeal to fleeting experiences. Whether it's a multi-day wedding celebration with events taking place inside Disney parks and at immersive resort locations, to once-in-a-lifetime experiences shared with friends and family, or a place to revisit for years to come—Disney's Fairy Tale Weddings offers peace of mind, creating the opportunity to live in the moment, share magical experiences, and the ability to relive the most special day as you return for anniversary trips, family vacations and vow renewals for years to come.
Want to learn more about hosting your wedding at Disney? Download our digital brochure. Ready to start planning? Contact the Disney Weddings team today!