The strength of love is its own kind of magic. Ariel and Evan's fairy tale wedding on the shores of Seven Seas Lagoon at Disney's Wedding Pavilion was full of personal touches and true Disney magic, with moments straight out of a fairy tale, from a touching first look, to riding off as husband and wife in Cinderella's Coach.
Walt Disney World had been a place where Ariel created many special memories. One of the ultimate memories is your wedding day, so, choosing to have a Disney's Fairy Tale Wedding made perfect sense. Ariel worked in the weddings industry as a makeup artist, and throughout the years she had attended many weddings, so it was important to her to create a wedding experience that felt personal and unique to her and Ethan.
She shared that their special day 'truly felt unique and illustrative of the love and commitment [they] had built with each other.'
It was a picture-perfect day at Disney's Grand Floridian Resort where Evan and Ariel had their intimate first look that had everyone in tears. Having their first look with the Grand Floridian as an elegant backdrop was the perfect fit for their classic fairy tale theme.
Evan described the wedding as 'absolute perfect,' with a customized wedding ceremony at Disney's Wedding Pavilion that 'sparkled in the sunlight.' The couple's classic fairy tale romance theme was brought to life by the Disney's Fairy Tale Weddings Team, with gold candelabras adorned with flowers and a custom aisle runner to lead the way.
Ariel shared that arriving and departing her Disney Wedding ceremony in Cinderella's Coach had always been a dream of hers. The experience of riding off as husband and wife for the first time was 'so unreal and such a beautiful memory.'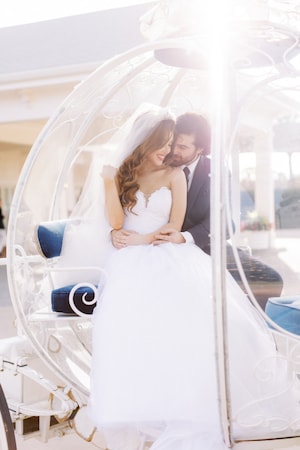 The couple extended the celebration with a cocktail hour, followed by a magical wedding reception at Disney's Grand Floridian Resort Ballrooms, but not before sharing a private dance before their guests were invited inside.
The couple's reception was transformed into a classic fairy tale romance. The custom up-lighting and castle and firework gobos set the scene behind their sweetheart table adorned with pink and blue flowers. Ariel and Evan also chose to enhance their décor with upgraded Chiavari chairs, royal purple linens, and beautiful table centerpieces themed to classic Disney fairy tale romances.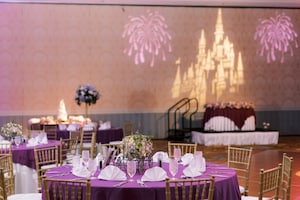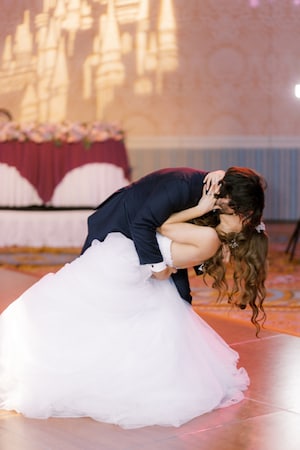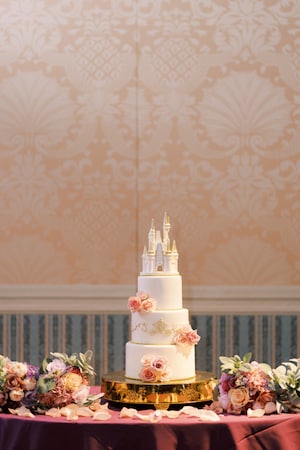 Ultimately, Ariel shared that the most important aspect of their Disney wedding was "being able to feel like we were still spending the day together and enjoying the celebration of our love for each other. Writing our own vows, our first look and the stress-free experience the Disney Fairy Tale Weddings cast members provided truly ensured this.'
It was an honor to celebrate Ariel and Evan's love and bring their classic fairy tale romance to life.
Discover more inspiration from Disney weddings around the globe. Ready to start planning your fairy tale wedding? Download our digital brochure to learn more.