Weddings, no matter the season, are beautiful but there's something extra magical and romantic about the Autumn months that invite couples to embrace themes, colors and flavors that you can only pull-off during this particular season.
From the al-fresco venue options, to the to warmer color palettes, and fall-themed flavors like pumpkin and apple-spice, to the unique fall foliage – there's so many options to consider for your Fall wedding!
Whether you're a couple still gathering initial ideas for your autumn wedding, or you're on the hunt for a final few details to make your upcoming wedding festivities extra special, we're here to help you embrace the season with these 10 ideas for your Fall wedding at Disney.
Muted Color Palettes
First on our list, are muted color palettes! The wedding colors you choose really help to set the scene for your event and guide a lot of your wedding decisions going forward. As we transition from summer to fall, consider opting for more muted, toned-down versions of your favorite colors.
Season Inspired Park Portraits
A once-in-a-lifetime experience, only available to couples who get married with Disney Weddings, are portraits inside Disney Parks before they open to guests. Not only is this an incredibly magical moment, but the photos are stunning! If you're getting married in the Fall, we encourage you to embrace the season and choose backdrops that celebrate the special time of the year. Some of our favorites backdrops for Fall – Haunted Mansion, Tower of Terror, and the Main Street Pumpkin at Disneyland.
Boho Rustic Wedding Themes
We love a Fall wedding with a Bohemian theme! From the abundance of textures like feathers and pampas grass, to rugs, pillows and cushions, to warm color palettes and cozy lanterns – this is theme pairs really well for Autumn weddings.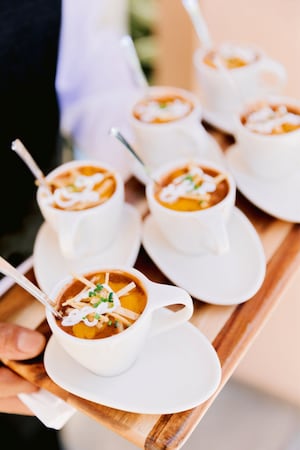 Seasonal Menu Options
When you think of Fall, how can you not think of all the delicious food and drink options! From warm apple cider, to chili, pumpkin pie, and candied apples. Chat with your Disney Wedding Planner and dedicated Disney Chef for all the Fall inspired menu items.
Velvet Details
A décor detail we love to embrace in the Fall is velvet! From a tailored velvet suit, to luxurious velvet linen, to napkins and couches in the smooth fabric, there's lots of ways to incorporate this sumptuous texture throughout your Autumn wedding décor.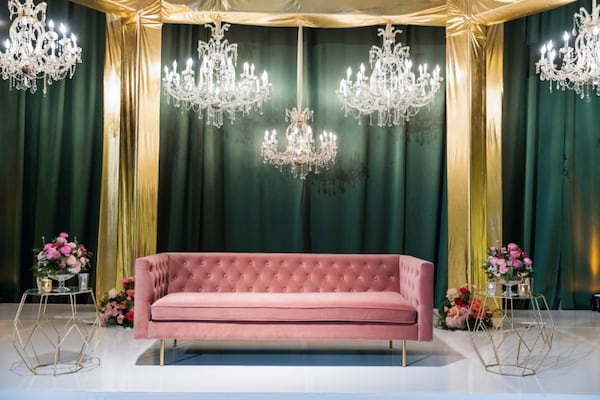 Cozy Seating Areas
Fall is the perfect time to cozy up with the ones you love most! For wedding events in Autumn we love to create comfortable seating areas for guests to relax, connect and enjoy the festivities.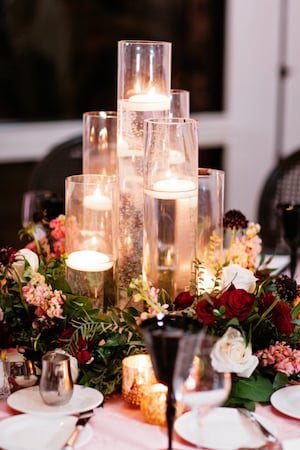 Candlelight & Enchanting Lighting Displays
The sun begins to set earlier in the Autumn, which gives us the perfect excuse to play with lighting! Consider adding lots of candlelight, chandeliers and twinkling light displays to create a warm and enchanting environment for your Fall wedding.
A Fresh Take On Fall Vibes
Consider taking the elements of Fall décor that you love and pairing it with more modern styles. For example, incorporating white pumpkins versus orange, or a minimalistic gold ceremony arch decorated with floral in traditional Fall colors. Include what you love about the season, but in an elevated and fresh way!
In-Season Ceremony Space
With milder temperatures, Fall is an ideal time for an outdoor wedding ceremony. And, with so many venues to choose from, you can truly find a backdrop that matches your wedding vision and fits perfectly with a Autumn aesthetic. Some of our favorite ceremony venues for Fall – Brisa Courtyard, Germany Courtyard, Tower of Terror Courtyard, Tamu Tamu Courtyard, Parkview Terrace, Oak Manor Lawn, and Sea Breeze Point.
Seasonal Inspired Wedding Cakes
Finally, on our list of Fall wedding ideas for your Disney Wedding, seasonally inspired wedding cakes! From cake flavors to creative inspiration, you can always have a lot of fun with your wedding cake – but especially in the Fall.
There's our list of Fall wedding ideas for your Disney Wedding. For more inspiration, check out our Pinterest page. If you're interested in starting to plan your Fall wedding – contact the Disney Weddings team.