High school sweethearts, Kristen and Conner, celebrated "I DO" 10 years to the day after they started dating with a fun-filled Disney Wedding that ended with a dance party on Sunset Boulevard.
The couple started off their wedding day with a beautiful first look under a gazebo at Disney's Port Orleans Riverside Resort. Taking advantage of the natural setting to spend time together and take scenic portraits before joining their guests at Disney's Wedding Pavilion for their wedding ceremony.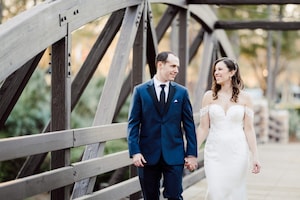 The wedding ceremony was picturesque, pink rose petals lined a custom aisle runner, while floating candles and gold candelabras lit Kristen's way to her love!
One of Kristen's favorite moments from her wedding day happened at Picture Point right before her ceremony, "We happened to get to Disney's Wedding Pavilion a bit early as the Magic Kingdom fireworks were ending. We got there just in time to take firework photos during the finale of Enchantment. I think it was some Disney magic that something that wasn't supposed to happen worked so perfectly."
Kristen and Conner expressed that the most important thing to them was that their wedding had to be fun – well, what's more fun than Sunset Boulevard's lively atmosphere with the Hollywood Tower Hotel as your backdrop?
The day was filled with surprise and delight moments for them and their wedding guests to enjoy, including "uninvited guest" actors, their favorite Disney foods, and a mickey waffle bar! That's one of the ways Disney's Culinary Team can make extra magic – you can customize your wedding menu to match your unique wedding vision. Guest actors and other themed entertainment are a fun way to surprise your guests and add a uniquely Disney touch to your wedding.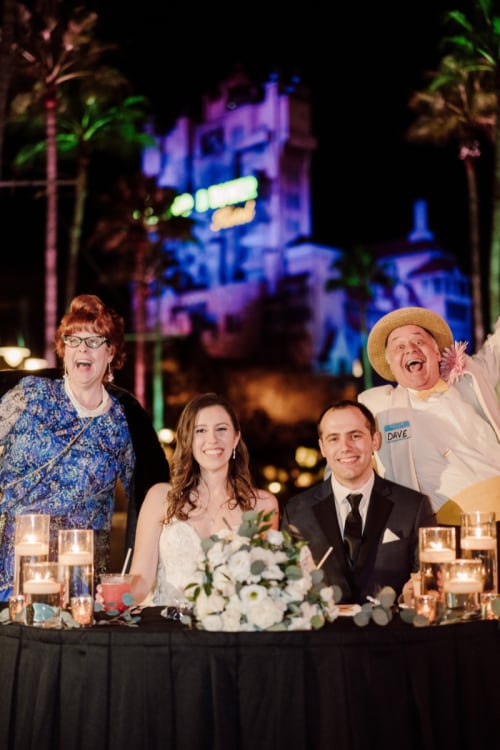 Kristen and Conner had custom table settings fittingly themed to the Hollywood Tower of Terror, with floating candles creating ambient lighting at every table.
There's nothing like having Sunset Boulevard all to yourself to celebrate your love with your favorite people.
Kristen and Conner celebrated all night long, soaking up the magic with dancing!
To find out more about multi-destination wedding celebrations and unique ways to make it distinctly yours, request a digital brochure.
Photos courtesy of Shane Ware Photography.