One of the most fun elements of wedding planning is choosing your color scheme. Which is also one of the most essential decisions, as your wedding colors tie in to almost every detail of your wedding. From décor, floral, your wedding party attire and more – your color palette will guide you for many of your wedding planning decisions going forward.
Helpful Things to Consider:
What colors make you happy and relaxed? Do you prefer muted tones, or vibrant and colorful vibes. Having an understanding of what colors help put you at ease can help guide you as you choose your wedding colors.
Think about the time of year you're getting married and where you're getting married. The color palette you might choose for a winter wedding taking place in a ballroom may look very different than a summer wedding on a beach.
Finally, what's your wedding theme? Is it modern and minimal, enchanted garden or vintage – this can really help narrow down color choices.
To inspire you along your planning journey, we've curated a list of some of the most popular wedding color schemes.
BOHEMIAN & EARTHY
For the couples who love a boho aesthetic with lots of natural tones and greenery - think chic, earthy comfort.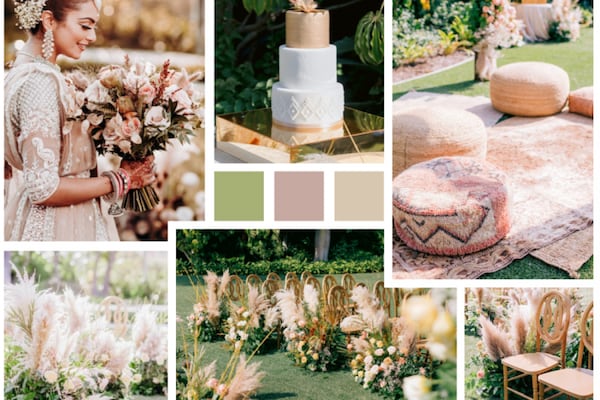 PINK HUES & SPARKLE
Fairy tale chic with pinks, metallics, and lots of sparkle, is for those wanting a modern chic atmosphere, blush pink is a timeless color that exudes elevated romance.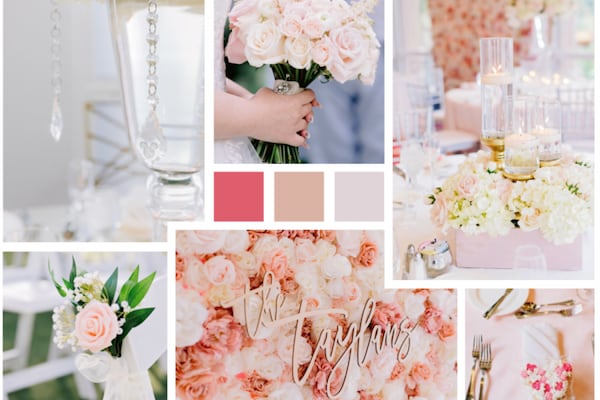 BOLD & VIBRANT
For the couples who want to make a bright and bold color statement.
WARM & SUNNY
For all the happy feels on your wedding day, warm and sunny colors exude a sense of calm, serenity, and excitement!
LUXE BLACK & WHITE
A black and white color palette is both traditional and modern, giving the day a sophisticated and timeless feel.
MOODY TONES
Moody wedding colors are a current trend, with purples and burgundies give an edge to your romantic aesthetic.
HOLIDAY AESTHETIC
For a wedding during the "most wonderful time of the year," embrace the holiday season with festive reds, greens, and winter whites.
MUTED PASTELS
Pastels are a great way of giving a classy, timeless feel to your special day!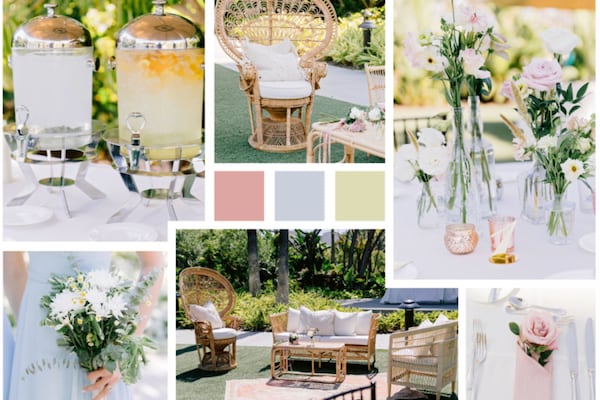 TROPICAL VIBES
Whether you choose a tropical destination for your wedding or not, you can have all the island sunny feels with bright tones, lots of greenery, and colorful foods.
REGENCY BLUES & PURPLE HUES
Currently trending, regency era themes can give a classy, vintage feel to your wedding – with unique seating, vintage china, and all the blues and purples.
Overall, don't overthink it! Your wedding day is all about you and your style. It's a celebration of your love, and your color palette should reflect that! Play around with colors until you find what speaks to you. Not every part of your wedding, or your color palette, must match perfectly. A wedding color scheme is all about what makes you feel authentically you.