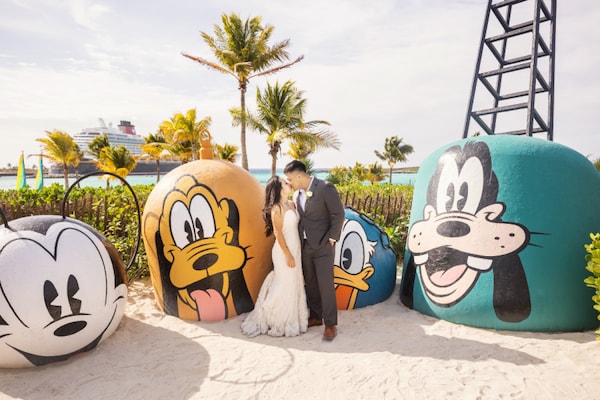 For these high school sweethearts, Disney has always been a constant. Over the course of their 13 year relationship they enjoyed dates at Disneyland, sailings aboard the Disney Cruise Line and a magical proposal inside the Animation Building at Disney California Adventure. So, when it came time to plan their fairy tale wedding – they knew they wanted to share a Disney experience with their family and friends.
Jena and Scott chose Disney Cruise Line as their wedding destination and took advantage of all that a Disney Wedding aboard the Disney Dream cruise ship can offer! From picture-perfect portraits around the ship, to meet-ups with friends and family onboard, to their stunning wedding ceremony inside the iconic Atrium. Keep scrolling for a closer look at their Disney wedding weekend on the Disney Dream.
A WEDDING VACATION FOR EVERYONE
"Being that our wedding wasn't just a day and was a whole weekend adventure, the most important aspect was that our guests didn't feel overwhelmed by the experience. Utilizing the chat feature on the Disney Cruise Line Navigator app we added all our guests into a big group chat. We were able to tell everyone about where and when to meet, what was going on, and tips for getting the most out of their trip. We wanted everyone to be able to venture and explore on their own but would still update our guests on where the bride and groom would be in case they wanted to join in on our fun!"
Jena and Scot shared one of their favorite wedding week memories: "the final icing on the cake was being able to watch the Super Bowl on the top deck with our wedding guests". We love that Disney destination weddings really allow couples to spend time with the people that mean the most to them and create core memories that will last a lifetime!
THE WEDDING DAY
"We'd describe our wedding as a fun-filled adventure with unique storytelling about us!" shared Jena & Scott.
The day started with getting ready with their wedding party inside their Disney Cruise Line stateroom. Followed by the most romantic first look on the deck overlooking the ocean.
A wonderful thing about Disney cruise ships is they offer many unique and picturesque backdrops for wedding portraits. Before joining their guests for their wedding ceremony, Jena and Scott spent time together exploring the Disney Dream and taking lots of photos.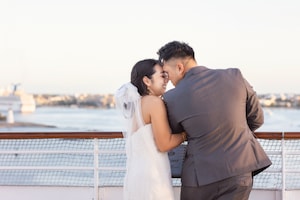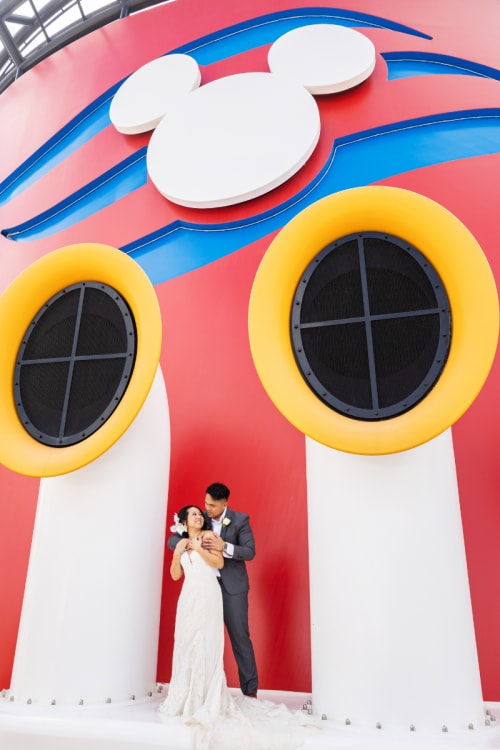 Then it was time for the wedding ceremony! The couple hosted their ceremony inside the Atrium while at port in Nassau. Port days are ideal as it means not as many guests are onboard – giving the couple and their wedding guests more intimacy during the special celebration.
Jena and Scott's ceremony was full of unique and personal touches – like bubble wand bridal bouquets and a dancing processional. Jena shared that "walking down the iconic blue and gold staircase and being in the Atrium was a surreal moment."
THE WEDDING CELEBRATION
They both expressed that they wanted their Disney Wedding to be fun and memorable for them and all their wedding guests, choosing to extend their Cake & Champagne Celebration to keep the party going!
Jena and Scott shared that, "Another fun storytelling moment was having an Easter Egg hunt during our reception as an ode to us having the same anniversary as Pixar, whoever found a Disney egg hidden in our venue would get a gift. We also had a box of Pixar postcards in lieu of a guestbook for our guests to sign and leave in our personalized Carl and Ellie mailbox. We wanted our wedding to be fun and memorable not just for us, but for all our guests too!"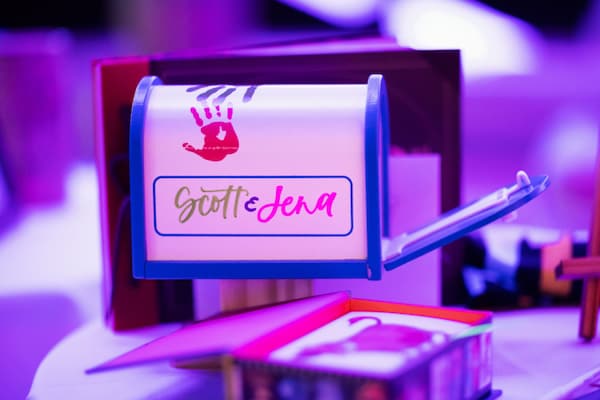 The fun didn't stop there, after the Cake & Champagne Celebration the couple and their wedding guests enjoyed fireworks at sea!
RELAXING ON CASTAWAY CAY
The wedding celebrations continued on to the next day as everyone enjoyed Disney's private island, Castaway Cay. Jena and Scott took the morning to capture wedding photos on the beach and then joined their families at a private cabana to relax and enjoy the rest of the day.
Jena and Scott shared that hosting their Disney wedding celebration aboard the Disney Cruise Line allowed for a weekend-long adventure that made it the wedding of their dreams.
We were so happy they chose Disney Fairy Tale Weddings aboard the Disney Cruise Line! If you are interested in planning your own dream wedding on the seas, request a digital brochure.
Photos courtesy of Root Photography.