Katie and J.D. decided to celebrate their 10-year anniversary with a Disney Vow Renewal surrounded by family at Disneyland Hotel's Adventure Lawn Gazebo.
The couple chose Disney Fairy Tale Weddings because Disney has become such a big part of their lives, sharing that they, as a family, "watch Disney movies together, listen to Disney music, have Disney dance parties, and dress as Disney characters for Halloween."
They expressed that being able to give their children the experience of Disney, experience it alongside them, and "watch their faces light up when they see the castle, meet their favorite characters, ride a new ride for the first time, or catch a parade" is an amazing feeling as a parent. Getting to "see the magic of Disney through your child's yes, it makes you love it even more."
For their vow renewal, the couple expressed that they wanted a classy, beautiful, intimate gathering of their extended family and to "show everyone the magic of Disney and all be together to experience it."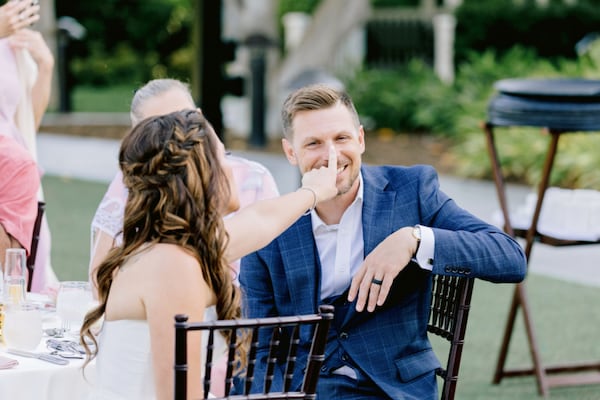 The family also had a couple of very special guests visit and surprise the kids – Mickey Mouse and Minnie Mouse! Everyone in the group had smiles ear-to-ear and the couple shared that they were happy to be able to give that gift to their guests.
The Adventure Lawn Gazebo was wrapped in vines, and the entire Garden was an atmosphere of elegance, with shades of pink and white, flowers on every table, and passed hors d'oeuvres from Disney Culinary for their guests to enjoy.
Katie and J.D. expressed that it was important for them to include the kids as much as possible. They shared their first dance to their wedding song again, and then J.D. and their daughter, Emmy, danced to their own song. Their son, Slayton, even got to play DJ for a while, and it made his night!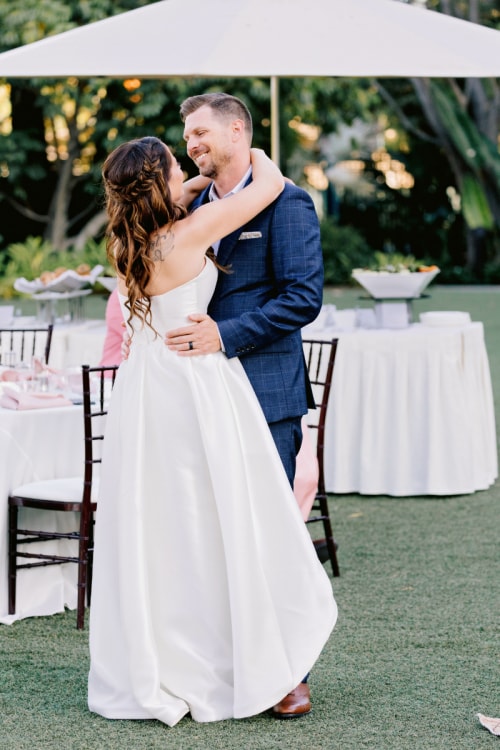 Overall, the couple shared that the Disney Fairy Tale Weddings Team made it easy to plan their celebration of love and that they will remember it forever. Their hope is that their love for Disney will be passed down generation to generation.
If you are looking to celebrate your anniversary and love for each other as a couple, request a brochure to get started with Disney Fairy Tale Weddings & Honeymoons.