See what Epcot has to offer at Ashlyn & Paul's Disney Wedding in the Japan Pavilion at The Walt Disney World Resort.
With a ceremony at The Bonsai Promenade and reception at Living With The Seas, this Disney Wedding was an adventurous event to remember!
"We got into contact with a wedding planner sixteen months out from our date and the rest is history!"
These highschool sweethearts knew they wanted to tie the knot at Walt Disney World the moment they got engaged, and they were eager to make the dream a reality. Ashlyn & Paul worked closely with our Disney Weddings team to select venues that matched their unique wedding day vision.
They strived to create the most magical, memorable experience yet, and wanted Disney to be included in the fine details.
"From the surprise of having Mickey at the reception to little details like our Mickey and Minnie macarons and our cake topper, we knew we wanted the Disney theme but didn't want to go overboard with it. I'm so glad everything went as perfectly as we planned!"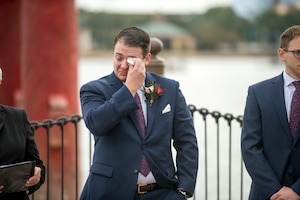 When you love someone so much you want to travel the world with them, Epcot's World Showcase is a brilliant choice. For Ashlyn & Paul, it was the beginning of their Happily Ever After. They chose to start off their lifetime of adventure with a wedding ceremony at our Japan Pavilion.
Ashlyn & Paul chose the Japan Pavilion because of the memories they have created there in the past. Aside from the Disney nostalgia, our pavilions provide an authentic, cultured backdrop guaranteed to make your special day stand out.
Specifically, our Bonsai Promenade sits right on the edge of our World Showcase Lagoon. Who can resist that breathtaking waterside view?
To complement our pavilion's natural colors and historic theming, the couple decided upon colors of navy and burgundy with accents of gold and white. The processional was accompanied by our solo violinist. It was truly a dream!
Their guests tossed rose petals overhead as they receded down the aisle as, officially, husband and wife.
For the couple's reception, our consultants suggested a spot perfect for their fun-loving, energetic guests. They were in need of a space that was large enough to party, yet still intimate enough to preserve that Magic.
Living With The Seas in Epcot worked just swimmingly.
This Disney Wedding was an Epcot celebration for the books. Ashlyn & Paul worked very closely with our Disney team to ensure their vision was everything they had hoped. We were enthused to help this lovely couple achieve their dream come true!
"Even though I've only been to Disney World as an adult, it always feels like I'm a kid again because the magic truly envelops you the second you step on property. I wanted our guests to feel that same magic, and I think we succeeded."