Bride, Justine, inherited a love for Disney that was passed down through generations. Starting with her grandfather who first visited Magic Kingdom on opening day in 1971. To numerous Disney vacations with her own father and mother as a kid.
The bride recalls one of her fondest childhood Disney memories, "[was] riding on the monorail and hearing over the speakers…'coming up to the lagoon side is Disney's Wedding Pavilion. Couples may exchange vows in a fairy tale setting, complete with picturesque...". Which sparked her dream of one day having her own Disney's Fairy Tale Wedding.
"For me Walt Disney World was a place no matter the age where magic and dreaming always flowed through every core memory, vacation, and time spent."
Now, Justine shares this special destination with the love of her life, Justin, and their two daughters. Walt Disney World, becoming the backdrop to their wedding festivities.
The theme of the celebration was family. When reflecting on what was most important to them, the couple shared that, "it was to be as present as possible, to love one another, squeeze our closest family and friends and celebrate the day that was just filled with so much support and love towards our union."
The couple created epic moments of celebration and hosted multiple meaningful events—from their wedding ceremony at Disney's Wedding Pavilion, to a glamorous reception at Disney's Grand Floridian Ballroom to ending the night with a Firework Dessert Party inside EPCOT.
The bride and groom prioritized their VIP guest list, sharing that, "it was a very intimate setting of primary family and friends that share a love for Disney and is our constant in our daily life. We had 85 guests total but ask any Hispanic/Latin culture—that's a small count to us!"
The couple embraced a modern fairy tale aesthetic, incorporating castle silhouettes and classic white and blue color schemes and pairing it with modern touches like neon signs and acrylic chairs.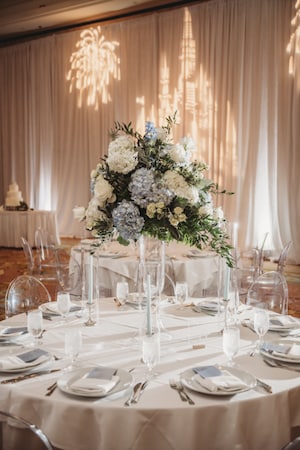 When we asked Justine and Justin what their favorite wedding day memory was—they shared that it was the visit from Mickey & Minnie. A special moment they were able to create for their own daughters, and those memories will last a lifetime.
"You truly don't process that Mickey & Minnie can actually join the celebration during your wedding day. From every character meet and greet when I was a child, to watching my fiancé interact, to bringing our own children to a meet and greet. The reaction of seeing Mickey & Minnie never gets old."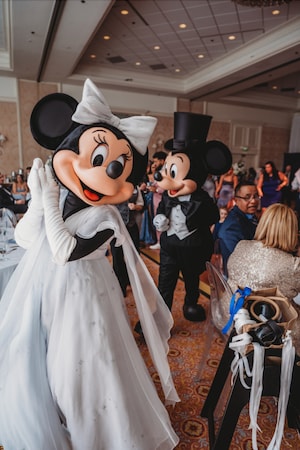 After the reception, the couple, their children and their wedding guests headed over to EPCOT to extend the festivities with a Firework Dessert Party. Ending their wedding day in the most magical way!
We could not be happier for Justine and Justin and their family! And we wish them all the love and happiness in the world!
Interested in planning you own wedding with Disney's Fairy Tale Weddings & Honeymoons, request a digital brochure or contact us.
Photos courtesy of Michael Garza Photography.