Anna and Brent hosted a Disney Wedding aboard Disney Cruise Line's newest ship – the Disney Wish – with 30 of their closest family and friends. It was a true celebration, with Disney details throughout. Keep reading all about their fun-filled cruise wedding!
"We love the Disney Parks and Disney holds a special place in our hearts. We always joked about having a Disney Wedding, but when the time came and we started looking at "traditional" venues, we realized how much we actually wanted to have one. We had never been on a cruise and loved the idea of having everyone together for 3 days straight and that Disney would handle most of the planning, so we reached out and got going! It was a quick turnaround and we were happy that we were able to get married within a year of our engagement."
An elegant wedding ceremony and celebration!
After getting ready in their staterooms, the couple hosted a simple but classic wedding ceremony at The Bayou onboard the Ship. The setting was picturesque, with a canopy of foliage above them.
"I would describe our wedding as elegant and classic, with minimalist Disney inspirations - especially Princess and the Frog (with our venue being The Bayou) and my brother was our officiant and used "Ohana" as a theme throughout his speech. I had a "Happily Ever After" bag and wore Mickey ears with a veil around the ship, the bridal party and I had the Corkcicle Disney Wedding bottles, Brent had Mickey cuff links, and our officiant wore a Mickey tie."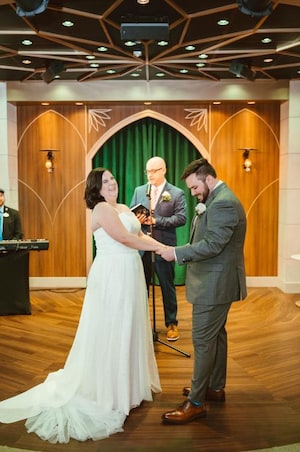 Anna and Brent celebrated with their guests in The Bayou, with delicious food and drinks!
Ending the celebration with a bang!
After soaking in the moment as newlyweds and taking pictures around the Disney Wish, Anna and Brent ended their cruise wedding watching the fireworks on the deck with their friends and family.
"The most important aspect for us was really just being surrounded by our most special friends and family. We had 30 people attend our wedding, and it was amazing that we were able to spend such a long time with them celebrating on the high seas!"
To begin planning your own Disney cruise wedding, request a digital brochure or contact us.
Photos courtesy of Jessa Rose Moments.