Maddi and Josh hosted a magical Disney Wedding inspired by Alice in Wonderland at the Grand Floridian Resort & Spa in Walt Disney World. From bright florals and whimsical décor to stunning venues and surprise and delight moments, Maddi and Josh's special day was a perfect encapsulation of Disney magic. Keep reading for all the details!
"I have dreamed of a Disney Wedding since I was a little girl! My family are Disney Vacation Club members, and on one of our trips I remember seeing a bride and groom having their Disney Wedding. I knew from that moment; Disney was the place I had to get married."
Starting off wedding week in full celebration!
"We started our week with a rehearsal dinner our guests would never forget! We had a dessert party at Terrace des Fleurs in Epcot. Disney created the most delicious menu for us. From homemade chocolate chip cookies, Mickey waffles, pog juice, all the way to a donut flambé action station, the food was amazing! Our guests enjoyed the EPCOT fireworks and I don't think there was a dry eye amongst our crowd. Afterwards, we surprised everyone with a private ride on Frozen Ever After!"
Beginning wedding day Princess-style
Maddi started off her wedding day with a grand entrance with her father in Cinderella's Coach, complete with royal ponies and footmen in full regalia.
"One of my favorite moments of the day was riding to the ceremony with my dad in Cinderella's Coach. It was so amazing to have that one-on-one time with my him. We talked about our Disney trips growing up & how we couldn't believe we were in this moment now."
A stunning wedding ceremony at Disney's Wedding Pavilion!
"We had our ceremony at Disney's Wedding Pavilion and our guests were in awe of the stunning view of Cinderella's Castle. Not a single one of my guests had ever been to a Disney Wedding so they couldn't stop talking about how friendly the Cast Members were and all the attention to detail."
"Another favorite moment was seeing each other when the doors opened for me to walk down the aisle. Our organist played the MOST stunning version of Part of Your World from The Little Mermaid and it felt like something out of a movie."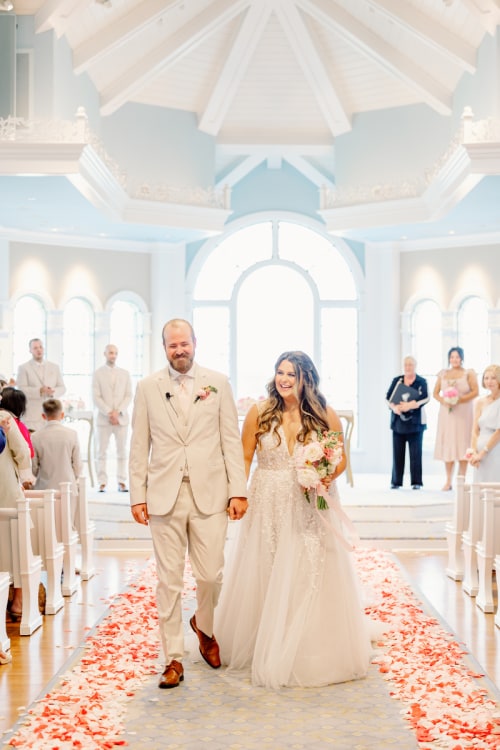 A whimsical evening of celebration!
Celebrating as newly-weds, Maddi and Josh hosted their wedding reception at Summerhouse Patio at Disney's Grand Floridian Resort & Spa.
"For our day, we wanted a garden party feel to match the theming of The Grand Floridian. I was inspired by Alice in Wonderland to have a whimsical outdoor reception with lots of gorgeous florals and soft touches of pink."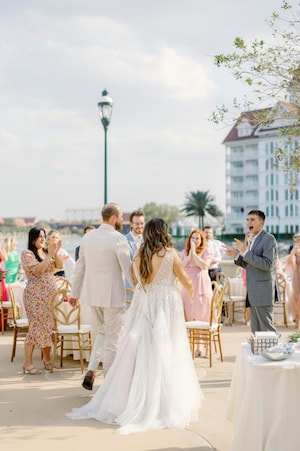 "We had a stunning view of The Grand Floridian, Seven Seas Lagoon, and at the end of the night we could see fireworks from our dance floor! Mickey & Minnie surprised our guests and joined them on the dance floor. Seeing our guests' reactions to Mickey and Minnie was another favorite! The kids went running to them and even the adults followed behind. They danced with our guests and took so many photos. Seeing everyone's selfies with them made us so happy we had them come!"
"We really wanted to emulate the magic of Disney to our guests! We wanted them to understand why Disney means so much to us! With the help of our Disney Weddings Team, we created a magical wedding week our guests are still talking about!"
We loved seeing Maddi and Josh's vision for their Disney Wedding come to life!
To begin planning your own special day, request a digital brochure or contact us.
Photos courtesy of Kiste Photography.