It's an exciting time for Disney's Fairy Tale Weddings & Honeymoons! We just announced magical new experiences and products – from the 2023 Disney's Fairy Tale Weddings bridal collection, to brand new Disney Princess-inspired bridesmaid dresses coming Fall 2023, and even a brand new coach inspired by the classic fairy tale, Cinderella, coming to Disneyland in Fall 2023.
If you're planning to celebrate your love story soon, then you'll want to take note! Keep scrolling for all the details.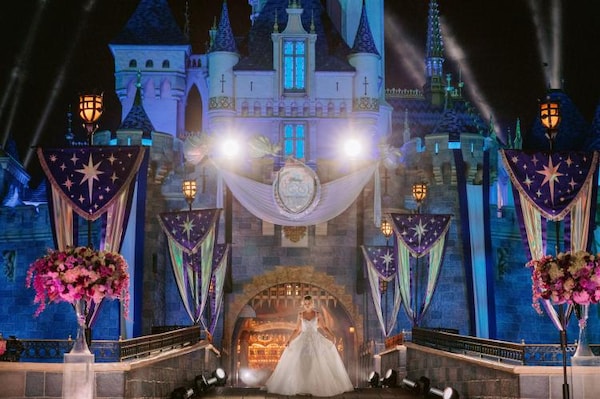 Revealing the 2023 Disney Fairy Tale Weddings Collection of Bridal Gowns with a Magical Fashion Show at Disneyland
The 2023 Disney's Fairy Tale Weddings Collection of bridal gowns has officially launched! Revealing the beautiful wedding dresses during a magical fashion show in front of Sleeping Beauty Castle at Disneyland Park. You can watch it now on YouTube! The collection includes twenty-one brand new wedding dresses inspired by Ariel, Aurora, Belle, Cinderella, Jasmine, Pocahontas, Rapunzel, Snow White and Tiana.
You may even recognize a few familiar faces! We invited content creators, Karlie Place, Toni Bravo, Courtney Quinn, Allison Bickerstaff and Janette Ok to host and model in the fashion show.
Announcing the Disney Fairy Tale Weddings Collection of Bridesmaid Dresses – Available Fall 2023
We so excited to announce Disney Princess-inspired bridesmaid collection which will be available Fall 2023. During the fashion show finale, viewers got a first look at the Aurora inspired bridesmaid dresses featured in the iconic pink and blue color palette. In the Fall, we will offer 9 bridesmaid dress style inspired by a different Disney Princess – all available in a variety of colors and fabrics.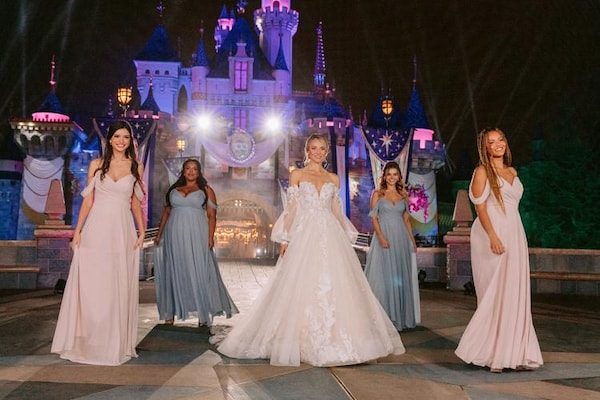 Unveiling a Design of the Newest Coach Coming to Disneyland Resort – Available Fall 2023
The exciting new announcements don't end there! We also revealed a design of the brand new horse-drawn carriage coming to Disneyland Resort in the Fall. The new coach features details inspired by the classic Disney love story, Cinderella. Handcrafted details include a pumpkin canopy and an interior shrouded in delicate vines.
The new coach at Disneyland Resort will round out the trio of carriages that include the Cinderella Coach at Walt Disney World Resort in Florida and the Disney Fairy Tale Carriage at Disneyland Paris.
Rounding Up 100+ Disney Wedding Venues in Honor of the Disney 100 Celebration
Finally, in honor of the 100th anniversary of The Walt Disney Company, we will be showcasing a sampling of more than 100+ wedding venues at Disney destinations around the globe. From iconic Disney castles, to intimate courtyards, and beach front settings.
Follow @DisneyWeddings for more details on these magical announcements.