Olive and Rachael hosted their Disney Wedding in Hawaii at Aulani, a Disney Resort Spa, transforming the venue into their dream wedding with elevated floral and décor and surprising their guests with unique Disney experiences throughout the celebration.
Choosing Aulani as the backdrop to their wedding allowed Rachel and Olive the chance to honor two of their passions – Disney and their home. "Not only did we get engaged at Disneyland, but our love also grew more traveling all the time to Disneyland… With our connection to Disney and Olive's connection to her home island, Hawaii, we were inspired to host our wedding celebration at Aulani."
Hosting their wedding ceremony at Lanikuhonua overlooking the ocean, Olive and Rachael immersed their guests in the Hawaiian culture and beautiful island environment by welcoming them with traditional island ukulele music and the blowing of a conch shell. They chose stunning ceremony floral and décor, including a wooden altar arch decorated in palm fronds and an isle lined with custom floral designs.
Their Disney wedding ceremony was a beautiful display of their love, full of emotion and picture-perfect moments.
Following their wedding ceremony, the couple and their guests celebrated on the other side of Lanikuhonua under the canopy of tented drape covered in string lights. All elements of their wedding reception reflected their elevated style, with extravagant floral, custom table settings, gold tones, and Hawaiian island touches.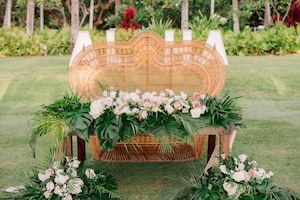 The couple included special culinary experiences unique to Disney like a snow cone station and classic Mickey-shaped furkikake musubi.
Olive and Rachael also surprised their guests with special visits from Disney Characters like Mickey Mouse, Minnie Mouse, and Stitch. They expressed that the most important aspect of their wedding day was "Having fun with our guests! We wanted our guest to enjoy the day as much as we did. We also wanted to show them how we both were like as a couple especially our Disney side."
It was a true celebration full of love, the couple sharing that "we wanted a relaxing, fun-filled atmosphere at the wedding where it mimics how it exactly feels to spend a day in Disneyland (from our perspective) with surprises at every corner and nostalgic feelings of childhood that hit the heart."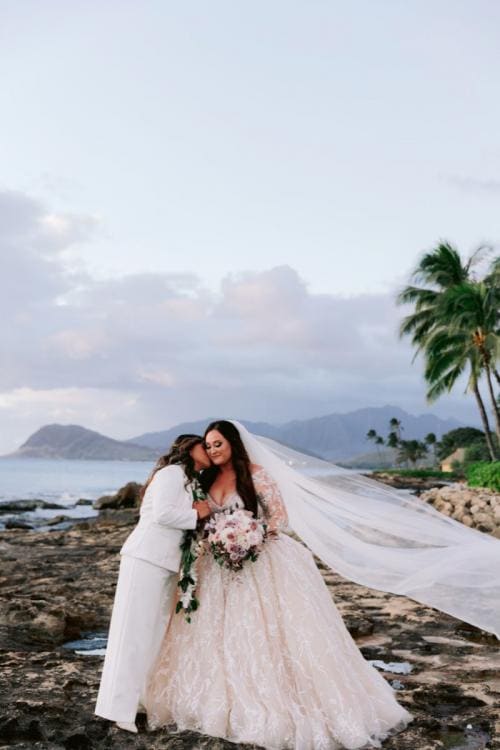 To begin planning your own Disney Wedding at Aulani, a Disney Resort & Spa, request a digital brochure or contact us.
Photos courtesy of White Rabbit Photo Boutique.