Mia and Tim hosted a Disney Wedding that was modern, trendy, and chic – full of fun wedding elements and unique Disney touches.
From a wedding ceremony at Disney's Wedding Pavilion, to a cocktail hour at Summerhouse Patio, to capping off the night celebrating with an after-hours wedding reception inside Disney's Animal Kingdom – Mia and Tim's wedding was full of memorable experiences from start to finish.
Mia shared that, "one thing that I loved about having our wedding at Disney is the planning process. It truly lifted a huge weight off my shoulders by having a team that can do everything all in one place. Even though I live in Indiana…I didn't feel that it impacted the process at all. All of the Disney Weddings Team we worked with were fantastic and helped create our vision seamlessly."
The couple's wedding day began with a touching first look at Disney's Grand Floridian Resort & Spa, where Mia and Tim wrote letters to one another and shared an intimate moment before her first look with her father. Having one-on-one wedding day moments with your partner is a current trend we're seeing that helps couples connect throughout their wedding day.
Mia and Tim hosted their wedding ceremony at Walt Disney World's premier wedding venue – Disney's Wedding Pavilion. A statement venue itself, the couple enhanced the timeless look of the space with modern bohemian floral to add a pop of style.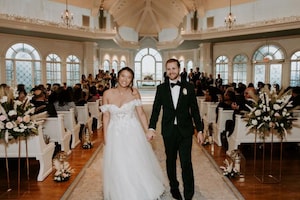 Following their wedding ceremony and a petal toss exit, Mia and Tim rode off as husband and wife in style, in a vintage motorcar that added a touch of glamour to their chic modern fairy tale.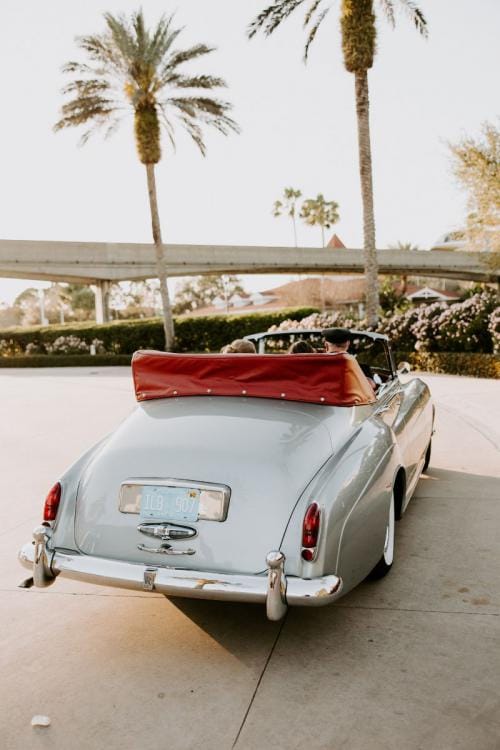 Mia shared that photography was an important aspect of their wedding day, that "photos were going to be something we would have forever to look back on." Because of this, sprinkled throughout the day the couple took advantage of picture-perfect moments with stunning backdrops around Disney property, like the iconic Picture Point at Disney's' Wedding Pavilion, to capture moments to last a lifetime.
Taking a moment to celebrate before their wedding reception inside of Disney's Animal Kingdom Theme Park, Mia and Tim hosted a cocktail hour at Summerhouse Patio at Disney's Grand Floridian Resort & Spa. Overlooking the water and serving tasty foods, their cocktail hour gave them time to relax and celebrate with everyone.
The couple even chose a surprise and delight moment trend unique to Disney for their guests during their cocktail hour, where "uninvited weddings guests" came to entertain everyone with improvisational comedy.
Curated wedding menus, another 2023 wedding trend, is a way for couples to get creative and personalize their wedding foods. Mia shared that "food is something guests tend to remember at weddings and we wanted to make sure all of the food we had was delicious and memorable. Attending the group menu tasting at Walt Disney World a few months prior to the wedding was such a fun experience! Disney has an AMAZING culinary team and all of the food was wonderful."
To cap off the night, the couple and their guests travelled to Disney's Animal Kingdom after Park hours for an immersive wedding reception on Harambe Street. Mia shared that "My favorite moment of our wedding day was walking into Animal Kingdom with all of the guests to the reception spot as the park was closing. It felt so special to me and definitely a pinch me moment!" She also shared that "Being in Disney we wanted to include the parks somehow and loved that Animal Kingdom has great decor already so we didn't have to spruce it up too much."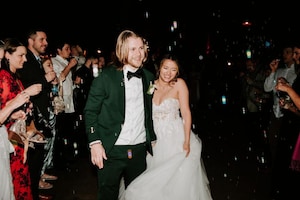 It was a true celebration, tapping into their wedding vibe with classic Disney snacks and a lot of dancing. Their wedding reception was one big party, dancing in the empty streets of Disney's Animal Kingdom with family and friends.
To discover more ways you can incorporate current trends into your own Disney Wedding, check out our 2023 Wedding Trends.
To begin planning your very own special celebration, request a digital brochure or contact us.
Photos courtesy of Kartsie by the Jakes.