Every year, new wedding trends emerge. For 2023, we're seeing couples extend their wedding celebration over multiple days, prioritize their closest family and friends and look for ways to surprise and delight their wedding guests.
As we look ahead to 2023 Disney weddings, we're seeing lots of exciting trends on the rise—all centering around the prioritization of the celebratory aspect of couples' nuptials. From multiple parties, to interactive wedding day menus, to unforgettable experiences and unique entertainment, couples are looking for ways to create an "experience" that reflects their love story and envelops their VIP wedding guests.
We're taking a look at seven of these 2023 wedding trends below—keep scrolling to learn more.
Multi-Day Wedding Experiences
"Multi-day wedding experiences is the trend for 2023", says Korri McFann, Marketing Director for Disney's Fairy Tale Weddings & Honeymoons. "Celebrating love is more than just a one day event, it's truly become an experience." McFann goes on to share that, "We're seeing couples curate wedding week itineraries that span firework dessert welcome parties, to Disney Park days with coordinating merch, to after-parties with immersive entertainment, to farewell brunches and more. At Disney Weddings, this is a really exciting trend because we can offer so much in terms of unique venues and experiences—and every couple has a dedicated wedding planning team that helps to manage all the details so it's not overwhelming for our couples who are planning multi-day wedding festivities."
Intimate Guest Counts
Smaller guest counts are here to stay in 2023. Couples are prioritizing their closest family and friends and opting for more intimate guest counts. However, this doesn't mean the wedding experience is any less full! In fact, we're seeing couples customizing more elements of their wedding and enhancing the event to create a truly beautiful and intentional wedding experience with 4-course meals, interactive entertainment, custom gifts and more.
Recent Disney bride, Sarah, shared that "the most important aspect of our wedding day was our guests' experience! There were around 30 of our closest family and friends who traveled for our big day and we wanted to ensure that they had the most magical time. We spent intentional time working on the smallest details like welcome bags, bubble blowers, seating arrangements and food choices."
Interactive Surprises for Wedding Guests
One of our favorite 2023 wedding trends are surprise and delight moments for wedding guests! Disney wedding couples love creating magical moments for their guests and we love helping make these special moments reality. Couples want to leave a lasting impression and create an experience that feels unique and different from anything anyone has yet to experience. Whether it's a surprise performance from the Dapper Dans, or an attraction mix-in on the couple's favorite ride, a private after-hours dance party inside a Disney Park, to specialty firework viewing and more—there's so many ways to create magic for couples and their wedding guests.
Shonagh, recent Disney bride, included an attraction mix-in and a firework dessert party at her wedding and shared that, "we didn't tell our guests anything so each part was a surprise to them, and it blew their minds."
Private Wedding Day Moments
As much as couples love creating special moments for their wedding guests, they're also looking for ways to connect as a couple and create private moments throughout their wedding celebration. In 2023, we expect more couples to embrace one-on-one experiences and build these moments into their wedding timeline—from getting ready together, first looks, private dinners, or a private last dance.
Lindsey and Matt, recent Disney wedding couple, shared that one of their favorite wedding day memories was, "the time after ceremony pictures where we were brought to a private room to rest and wait while our wedding guests arrived at the reception. It was the first moment we had alone that day and as a married couple. We were given a drink of our choosing and a plate of assorted appetizers to enjoy together."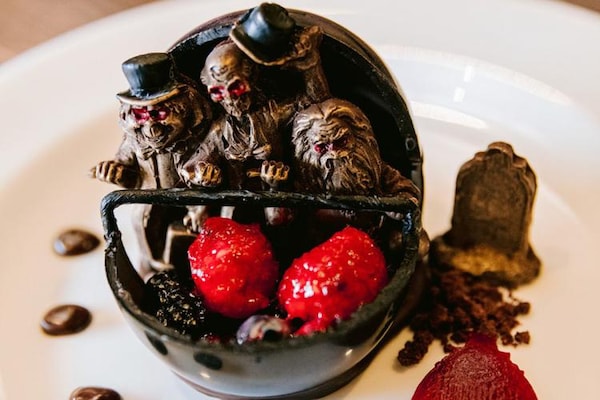 Curated Wedding Menus
From culinary items inspired by their wedding theme, to their favorite snacks, to personalized cocktails and more—couples are embracing creativity when it comes to their wedding menu. We're seeing more couples personalizing their wedding menu and using it as an opportunity to tell their love story—whether it's their favorite cuisine, a family recipe or a Disney park snack that they enjoy every visit.
Lena and Chris, recent Disney wedding couple, shared that they, "curated menus for 3 separate events, making sure to include some of our favorite foods from around the parks and resorts. Our welcome party at Trader Sam's was inspired by Ohana, our favorite restaurant. Then we took our favorite foods from the menu testing earlier in the year and made a brunch menu for our reception. Finally, we had a dessert party where we put our favorite snacks from the parks like Mickey Pretzels, Buffalo Spring Rolls, and Cheeseburger Pods."
Statement Décor Installations
Another fun trend many of our couples are embracing in 2023 is "insta-worthy" décor installations. From stunning chandeliers, to custom dance floors, interactive seating charts and more. Korri McFann says, "choosing a few significant elements to really focus on when it comes to décor can make a huge impression." She continues, "find the places where you really want to make a statement with your décor. I always recommend focusing on places that guests will either spend a lot of time or that will be photographed a lot—places like the bar or your sweetheart table. Make those few spots really standout with some enhanced décor pieces, like a custom neon sign or a floral wall!"
Emphasis on Wedding "Vibes"
You may be familiar with "wedding theme" or "wedding aesthetic", which typically inspires the wedding colors and décor. But, our 2023 Disney wedding couples are leaning more towards creating a "wedding vibe". This is when couples place heavier emphasis on how they want to feel at their wedding. For example, are you dreaming a relaxed and intimate affair or festival-style sequence of fun-filled events? Couples who understand the vibe they want to create can let that guide their wedding planning decisions to create an experience that reflects the feeling they want to enjoy.
Ready to Start Wedding Planning?