Micro weddings are here to stay! We're seeing couples prioritize their closest family and friends and opting for more intimate guest counts. However, this doesn't mean the wedding experience is any less full! In fact, we're seeing couples extend their wedding festivities over multiple days and enhance elements of their celebration to provide the ultimate guest experience for their loved ones.
Shonagh and Tommy are the perfect example of this! Traveling from the UK with 10 of their nearest and dearest to celebrate their love story with a stunning ceremony at Disney's Wedding Pavilion, followed by an intimate reception at The Attic, then private portraits along Disney's Boardwalk, before ending the night with a firework dessert party and a surprise attraction mix-in, culminating in a romantic portrait session inside Magic Kingdom.
When Shonagh and Tommy remembered their Disney Wedding, they shared that it was, "like no wedding you've ever been to before! It was completely different to a traditional wedding in the UK as we had so many more elements to our day. The only way to describe it was 'magical!'"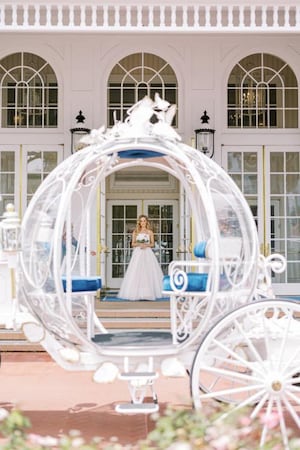 When it came to the most important aspect of their wedding day, they shared that, "first and foremost, for everyone to have fun! It is Disney after all."
But, their first touch, which their Disney Weddings team orchestrated just outside Disney's Wedding Pavilion was one of their favorite and most important wedding day memories. Sharing that, "in terms of sentimental importance, our first touch [was most important]. We opted for this rather than a first look as it's not traditional in the UK to see one another before the aisle. We wanted to have a small special moment together before sharing our big moment with our families."
Shonagh and Tommy hosted their wedding ceremony in our premier wedding venue, Disney's Wedding Pavilion. The iconic location sits on its own private island with a magical view of Cinderella Castle. Adorned with stained glass windows and sparkling chandeliers, the couple added arrangements of pink cherry blossoms, towering gold candelabras, a floral garland, and candles and rose petals to line the aisle—creating an environment that truly reflected their wedding vision.
Shonagh shared that, "Walking down the aisle to meet each other and reading our vows was the most heartfelt moment, everything was completely magical."
Following their romantic ceremony, Shonagh and Tommy's family helped kick-start the festivities with a flower petal toss as the couple stepped into Cinderella's Coach.
The couple captured the most magical portraits with the coach before departing to their wedding reception.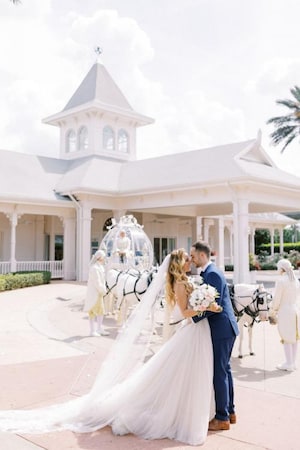 Shonagh and Tommy then joined their guests at The Attic, a perfect venue for an intimate reception. The bright and airy window pane room features a stunning view of Crescent Lake. And, the adjoining balcony set the dreamiest scene for the couple's first dance.
After their reception, which included lovely toasts from family members and delicious wedding cake! Shonagh and Tommy escaped for a couple of private moments to capture wedding portraits along Disney's Boardwalk.
The iconic location provides many beautiful and unique backdrops for wedding photos and Shonagh and Tommy to full advantage!
The wedding celebration didn't end there! The couple surprised their guests with a firework dessert party in EPCOT followed by another epic surprise—an attraction mix-in on Soarin'.
Shonagh shared that, "from travelling in Cinderella's Coach, to kissing under the night sky fireworks at Epcot in our own VIP area, and surprising everyone with a ride mix-in on Soarin' to finish the evening, we couldn't have asked for a more spectacular day."
To close out their wedding week at Walt Disney World, Shonagh and Tommy enjoyed an exclusive experience (only available to Disney wedding couples through Disney Fine Art Photography) where they got access to Magic Kingdom before it opened to guests to capture the most spectacular wedding portraits.
Shonagh and Tommy are the perfect inspiration for couples who may be considering an intimate guest list but still want to include all the elements they dream of.
To begin planning your own Disney Wedding full of unique Disney experiences, request a digital brochure or contact us.
Photos courtesy of Casie Marie Photography.