Scott and Anna hosted a Holiday Disney Wedding at Disneyland Resort that combined classic Disney touches with Korean wedding traditions. Taking advantage of the festive season, the couple captured holiday portraits inside Disneyland Park surrounded by Christmas decor.
The couple's wedding planning journey began soon after their New Year's Eve proposal when they attended the Disney's Fairy Tale Weddings Showcase. Anna shared that "The Disney Wedding Showcase is where we fell in love with the decor, food, magical touches and of course the dedication of the Disney Wedding Cast Members."
Anna and Scott hosted their wedding ceremony at the Rose Court Garden. The Disney Wedding venue was transformed into a true holiday fairy tale, with stunning floral arrangements adorning the gazebo and aisle, floating candles below and string lights above creating a warm atmosphere. A string quartet brought it all together, adding to the magical ambience.
"I would say that our wedding could be described as Disney elegance with a mix of tradition. I am Korean, and in traditional Korean weddings you present a wooden duck to your future in-laws. The ducks that are represented here mate for life so it is a way to show your future family your love, loyalty, and fidelity. That along with my traditional Korean dress (Hanbok), we were able to incorporate my heritage which was important to me."
Following their wedding ceremony, joined their wedding guests at the Sleeping Beauty Pavilion. The wedding venue was transformed into the same warm Holiday atmosphere with pink and white floral, floating candle centerpieces, and white drape with fairy lights creating a canopy above them.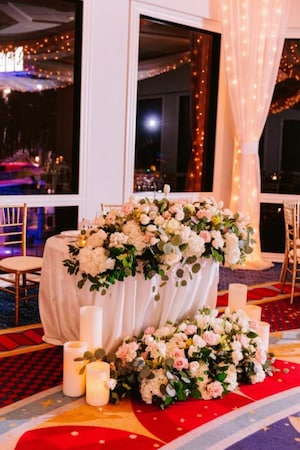 Soaking up the Disney Parks during the Holidays, Scott and Anna celebrated as newlyweds with Wedding Park Portraits around Disneyland Park, taking pictures with festive backdrops like the Main Street Christmas tree, under the Holiday lights down Main Street, and in front of Sleeping Beauty Castle with its icicle lights.
Anna and Scott's Disney's Fairy Tale Wedding was a beautiful representation of culture with the magic of a Holiday season at Disneyland Resort.
To begin planning your own wedding or vow renewal with Disney Weddings, request a digital brochure or contact us.
Photos courtesy of White Rabbit Photo Boutique.