It's been 30 years of celebrating love stories, and every story is unique and special to us. We're excited to go back and relive Santi and Brian's stunning wedding day at Aulani, A Disney Resort & Spa.
Picture this, the view of crashing waves, palm trees blowing in the wind, and your closest friends and family. Santi and Brian experienced all of this and more during their romantic paradise wedding at Aulani.
This fun, spontaneous couple knew a destination location was a right fit for them. They love keeping each other on their toes. In fact, their engagement involved a simple coin flip.
"I took a coin out of my pocket and was going to throw it into the fountain but jokingly said, 'how about we flip this coin to see if we should get married or not?' Brian quickly responded with enthusiasm and my joking mentality turned to curiosity. Heads we get married, tails we forget we ever mention this. I flipped the coin and here we are, married in 2020."
When choosing a venue that was so far from home, the couple made sure their top priority was to ensure their guests had a memorable time. With loved ones traveling from all over the world, Santi and Brian felt inspired to create a grandeur event and overall experience, while also relying on their Disney Wedding Planner to help keep it personal and intimate.
"It was genuinely comforting seeing our friends and family walk into Lanikuhonua and see their expressions on their face when they saw how beautiful the event came together. Throughout the event, guests would come up to us and tell us how wonderful the wedding was. We were obviously happy that they were having a good time."
The couple chose Lanikuhonua as their wedding venue because the location provided them with inspiration and emotion that they believed was incomparable to any other option. With the Pacific backdrop and natural Hawaiian wonders, it was easy to fall in love.
"I wish I could describe the beauty and the sensation you get when you step on this sacred ground... Lanikuhonua gave us that and so much more... It added to that 'magic' you want when you think of dream weddings. The venue felt like it transported you another world. The space gave us versatility and a wonderful canvas to build our ideal event."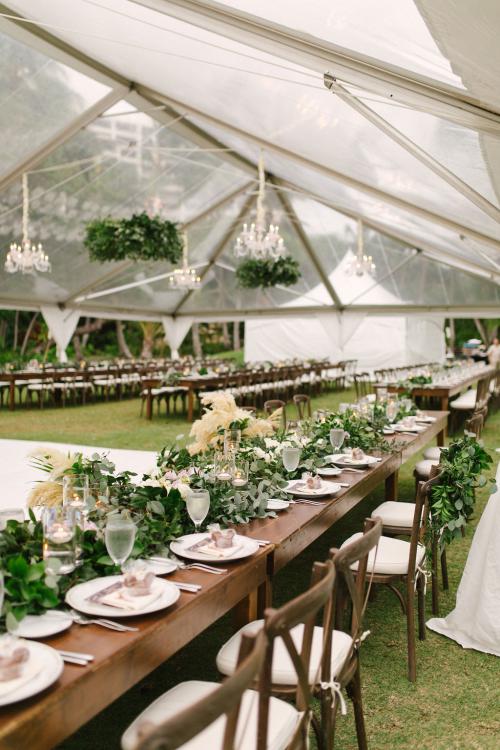 They envisioned their décor and floral to be lush and natural, so green foliage was the perfect match. Specifically, they desired for their reception space to resemble a greenhouse. Their ideas translated into immersive, stunning ceremony and reception spaces.
"I imagined this enormous greenhouse that was transformed into a wedding reception for one night where guests were sitting amongst plants and floral accents. The runners on the dining tables and the circular hanging installations gave the effect I was hoping for."
There's no denying how breathtaking their special day was. It's easy to be overwhelmed by all the people and intensity of the day, so it's very important to take a step back and really take in the environment you have created and the meaning behind it all.
"The moment we stepped onto the property on the wedding day, seeing the massive tent, the Marquee lighting of our names, and the complete setup that everyone had worked so hard to put together to make our wedding vision a reality, it was breathtaking. I was speechless that it came together so beautifully. Every detail that we had been working on for over a year was leading up to that day, and it was right there before my eyes. We were overwhelmed with joy, and at that moment, I was thankful that we made the decision to have a Disney's Fairy Tale Weddings."
We loved working with Santi and Brian to create their fairy tale wedding. They left us some advice to share with future Disney's Fairy Tale Weddings couples.
"No idea that you have is ridiculous. The team at Disney's Fairy Tale Weddings will do what they can to make your wedding day the absolute best."