Nadia and Taylor combined the magic of Disney with Nadia's Egyptian and Malaysian heritage. From a tea ceremony following their wedding ceremony at Coronado Springs, to The Lion Dance performance inside of the Great Hall of China in EPCOT, and a surprise visit from Mickey Mouse and Minnie Mouse, the couple's Disney Wedding was uniquely theirs and unique Disney.
An Outdoor Wedding Ceremony
Their wedding day began with an outdoor wedding ceremony at Destino Plaza just outside of Disney's Coronado Springs Destino Tower. It was a beautiful display of culture, combining a traditional Western ceremony and the tea ceremony following.
"With my father as the officiant, he was able to include important prayers and blessings, such as the doaa to honor the marriage. The tea ceremony allowed for us to show respect to our family members and their acceptance of the marriage."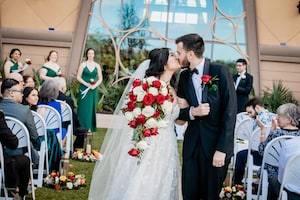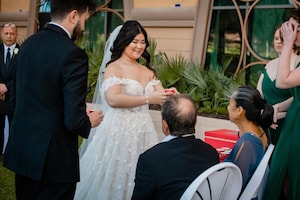 A Special Viewing of EPCOT's Nighttime Spectacular
Continuing their celebration as newlyweds, Nadia and Taylor watched EPCOT's nighttime fireworks spectacular, before heading to their wedding reception at the China Pavilion.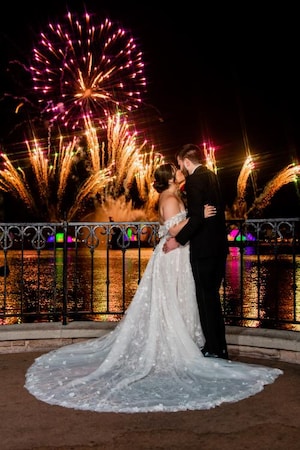 A Spectacular Wedding Reception Rich with Culture
To start off their wedding reception and welcome the couple and their guests to the Great Hall of China, Disney entertainers performed The Lion Dance.
"The Lion Dance was another way to share my culture with our guests. The performance blesses the couple and promotes longevity, prosperity, and a happy marriage."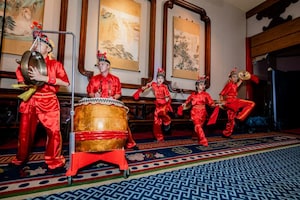 The Great Hall of China was transformed into a space for celebration, from lush floral centerpieces to custom red up lighting that set the ambience.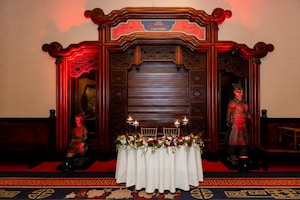 It was a true celebration, full of dancing and complete with a surprise for their wedding guests – Mickey Mouse and Minnie Mouse!
"Taylor and I always knew we would have a Disney Wedding because we wanted to experience all the magic and happiness on such an important day. Another big reason we chose Disney was due to my cultural background. My father is from Egypt and my mother is from Malaysia, so it was very important to us to incorporate my heritage in the wedding. We knew Coronado Springs and The Great Hall of China would be great backdrops for our wedding."
We loved curating a Disney Wedding experience that uniquely encompassed all that is important to Nadia and Taylor and wish them all the best!
To begin planning your own curated wedding event with Disney's Fairy Tale Weddings, request a digital brochure or contact us.
Photos courtesy of Disney Fine Art Photography.