There's something so romantic about Spring weddings at Disney. From the abundance of flowers to the warm sunny weather and garden inspired details, couples marrying during the Spring season have a lot to take advantage of when it comes to bringing their dream Disney wedding to life. And we're sharing some of our favorite Spring wedding ideas with you – keep scrolling for our full list!
Choose an Outdoor Ceremony Venue
Spring is known for beautiful, mild, sunny weather so consider an outdoor ceremony venue for your wedding day. At Disney's Fairy Tale Weddings, we offer over 100 unique wedding locations—many of them in stunning outdoor locales. From intimate rose gardens, to one of the EPCOT pavilions during the Flower & Garden Festival, you can embrace the spring season through the ceremony venue you choose as the backdrop for your special day.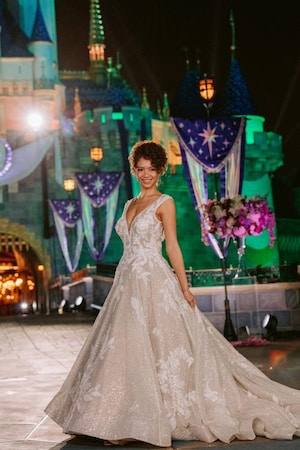 Embrace Floral Details with Your Wedding Attire
Spring is known for flowers so why not incorporate floral details through your wedding attire. Many of the wedding dresses from the Disney Fairy Tale Weddings Collection feature beautiful floral details and appliques.
Serve a Refreshing Cocktail
What's better than a delicious and refreshing cocktail on a warm Spring day?! We'd recommend seasonal flavors and floral details!
Opt for a Pastel Color Palette
Spring is the season for pastel! So, if you're looking for color inspiration for your Springtime wedding at Disney, consider muted tones of blush, purple, blues and yellows which are incredibly popular this time of year.
Craft a Seasonal Wedding Menu
Did you know, when you host a Disney wedding or vow renewal, you're paired with a Disney Chef to curate a delicious wedding menu personalized to your tastes and wedding vision? So, take full advantage of the season and include spring inspired menu items!
Opt for Custom Floral Dance Floor
Make a statement with a custom dance floor! And celebrate the season with floral designs. This is a bold way to create a stunning focal point for your wedding reception and looks amazing in photos.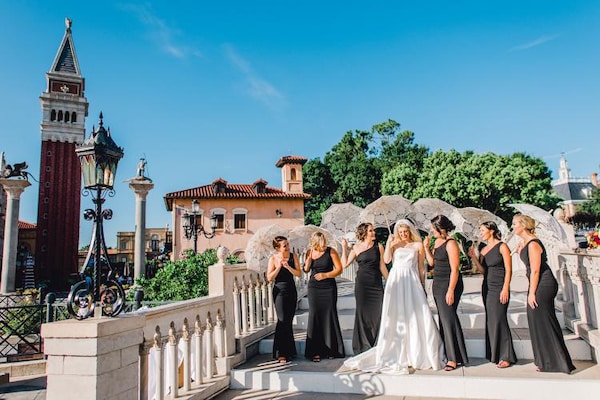 Have Parasols On-Hand
Serving two functions—shading your wedding guests and a cute photo opportunity! We love when couples choose to incorporate these practical and beautiful elements as part of their wedding day festivities, especially during the Spring months.
Decorate Your Wedding Cake with Flowers
You can never have enough flowers! Whether it's real flowers to coordinate with your wedding day floral or intricate and delicate sugar flowers—look for ways to incorporate the garden aesthetic into your wedding cake design.
Host a Day-After Brunch
Brunch and Spring—it just fits! If you're planning a Spring wedding at Disney, consider a day-after brunch with your friends and family. This is a great way to continue the celebrations and formally say goodbye to your loved ones after a memorable wedding week.
Add a Floral Canopy Above Your Dance Floor
A "wow" statement that will make you and your wedding guests feel as if they've been transported to an enchanted garden. Adding a floral canopy is a great way to immerse your guests and bring the outdoors inside for the ultimate Springtime vibe.
Choose a Floral Inspired Wedding Cake Flavor
There are so many delicious wedding cake flavors to choose from! If you're getting married in the Spring, consider a floral inspired flavor like lavender, rose or orange blossom.
Embrace Edible Flowers
Anywhere and everywhere, you can add a touch of floral—go for it! Not only is it beautiful, but it's also delicious.
Arrive Via Open-Air Transportation
When it's sunny and warm, there's nothing better than open air transportation. At Disney, there's many unique vehicles to choose from—from a Main Street Vehicle, to Cinderella's Coach, to the Landau Carriage and more.
Serve Fresh Fruit During Your Cocktail Hour
Serve something light and refreshing during your cocktail hour! Like fresh fruit—whether it's a fruit display or an elevated passed hor'dourve, have fun with your wedding cocktail hour menu and embrace the Spring season.
Make a Statement with a Floral Aisle
We love a floral aisle and during the Spring, it just makes sense to include flower petals down the aisle. Make a statement with elaborate designs or simply fill the aisle with petals—you can't go wrong!
Incorporate Butterfly Details
When you think of Spring, how can you not thing of butterflies?! Find creative ways to include butterfly details during your wedding—from your wedding cake, to your wedding stationary and more.
Enjoy Your Meal Outside
Enjoy the spring season with an alfresco dinner. There's something so romantic about eating under the stars on a warm spring evening. Embrace the beautiful weather and host your wedding meal at one of our stunning outdoor venues.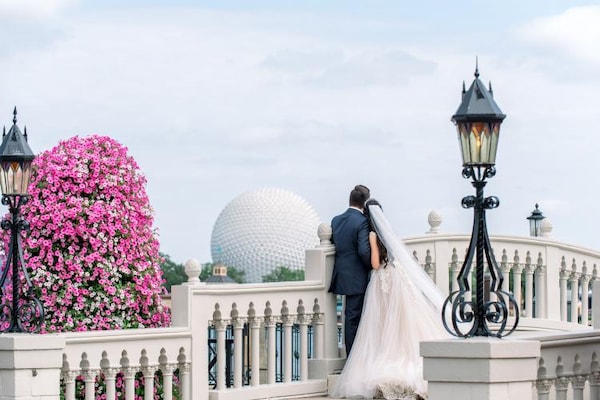 Have a Wedding Portrait Session in EPCOT During the Flower & Garden Festival
During the Spring, EPCOT transforms for the Flower & Garden Festival. If you're hosting your wedding ceremony at one of the many international pavilions, you'll be able capture beautiful portraits in front of the vibrant floral topiaries. If you're hosting your ceremony at a resort or a different Disney Park, you still have the opportunity to have wedding photos taken at EPCOT with a Disney Wedding Portrait Session.
Opt for Floral Arch at Your Disney Wedding Ceremony
Another great way to embrace floral during your Spring wedding is with a floral ceremony arch. Incorporate your favorite springtime colors and lots of greenery to create a stunning backdrop for your "I Dos".
Incorporate the Color Blush
Blush is the color of spring! It pairs well with so many colors—whether it's your statement color or a filler color to round out your wedding color scheme, we recommend adding blush hues to your spring wedding.
Serve Macarons at Your Disney Wedding
Macrons are a delicious, sweet treat that weddings guests love! And you can include so many fresh fruit flavors that taste like Spring.
Add a Bubble Wand Exit
We're big fans of bubbles—it's magical, looks great in photos, sustainable and eco-friendly. If you're having a spring wedding at Disney, consider gifting your wedding guests Mickey bubble wands and ask them to turn them on as your walk down the aisle as a married couple for the first time!
If you're looking for more Spring wedding ideas, check out Disney Weddings on Pinterest! If you're interested in learning more about planning a Disney wedding, download our digital brochure or contact our Disney Weddings team.