Your wedding is one of the most important days of your life. It should be filled with as much love, laughter, romance and magic that your love story holds. Hosting a destination wedding is one of the best ways to ensure you and your guests are fully immersed in every single moment of your wedding celebration.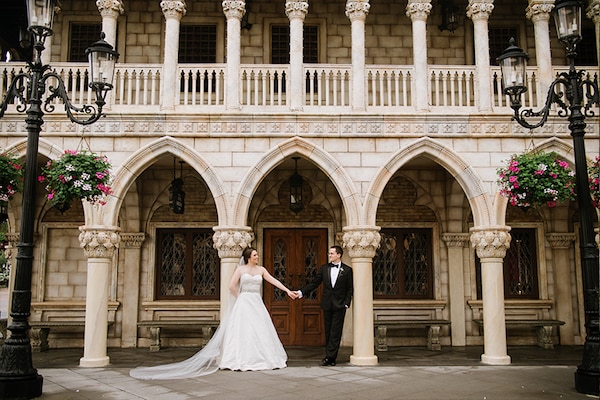 Why Have a Destination Wedding
Destination weddings invite you to step away from reality and into an environment curated especially for you. Whether is completely organic moments, like watching the nighttime firework show with your bridal party from your hotel balcony the night before your wedding or being wished a "happily ever after" from the Cast Members you meet. Or, it's a moment you and your Disney Wedding Planner specifically dreamed up, like arriving in a horse drawn carriage, or a surprise acrobat performance at your pre-reception, or renting out your favorite attraction for your guests to enjoy.
But, sometimes getting over the idea of planning a destination wedding can be daunting. We've pulled together some advice from our past Disney Wedding Couples on what the process of planning a destination wedding with Disney's Fairy Tale Weddings is actually like!
Sharra & Darin, Walt Disney World
"Relax, and enjoy the ride! The team behind Disney Fairy Tale Weddings are all amazing! We thought it would be challenging to plan our destination wedding through phone calls and e-mail exchanges, but when we had the opportunity to meet wedding planner in person for our planning session, we felt more at ease. There were times we thought we had too many questions, but they never made us feel that way. Whenever we had questions, they had answers. They were helpful every step of the way. It really made the whole process easier! Whenever you have a moment, just take it in, because your wedding day will be truly special because it's your wedding day and everyone there will make sure it is! It will go by really fast, and you have to try and remember to enjoy every second of it."
Sharra and Darin's Disney Wedding Spotlight.
Cindy & Jereme, Disneyland
"The wedding planning was incredible. We were planning from far away and the Disney Fairy Tale Wedding team made everything so easy for us. We were amazed at how wonderful the entire process was and felt better about the wedding after every phone call and email. They were just as excited for our wedding as we were."
Jennah & Dustin, Walt Disney World
"To paraphrase Jiminy Cricket always let your wedding planner be your guide! I can not begin to express how amazing everyone at Disney Fairy Tale Weddings was through the whole wedding process! My wedding planner was there for me every step of the way. They were always there to answer my questions all while keeping me calm and relaxed. I thought it would be a challenge planning a Disney wedding all the way to Massachusetts but they carried out my vision to the full extent all the while exceeding my expectations. The entire day was perfect in every way from decor, flowers, food cake, venue, and photos. I would have never made it through the process without them."
Tony & Eric, Aulani
"Our wedding was truly magical and was everything that either one of us had ever dreamed it would be and more. It far exceeded all of our expectations in every way. Being able to celebrate our love for one another in front of our closest family and friends, who traveled from all over the US to be there, made the entire day that much more special."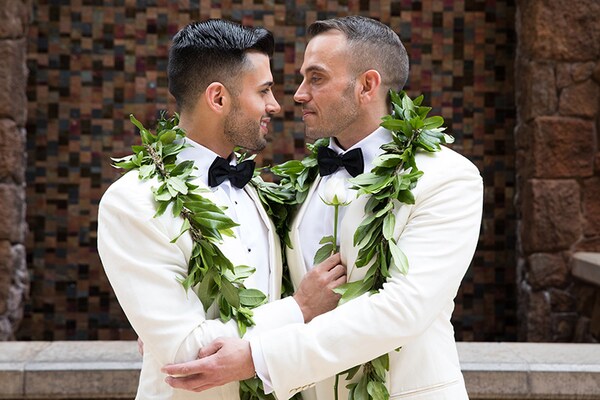 Colette & Johnny, Disney Cruise Line
"Our wedding was unique in that it was a 5 day experience aboard the
Disney Dream
, that included our bachelor and bachelorette parties on the first evening, multiple excursions and our rehearsal dinner the next day, a valentines day wedding, dinner and dance reception the following day, and wrapped with a magical day at sea. We would describe it as an unforgettable and magical experience. It really felt like we were in a fairytale."
Our team, at Disney's Fairy Tale Weddings & Honeymoons, is passionate about creating weddings and celebrations that honor and commemorate our couple's unique love stories and we are happy to help you create a truly memorable event that works within your budget.
Let us make your fairy tale a reality! For more information about planning your Disney wedding, request our
free wedding brochure
.