It wasn't until a mutual friend introduced these two that they realized they were actually in many of the same courses and had the same college major! They exchanged numbers in case they ever needed help and were immediately smitten. On their five year anniversary, Jubin took Carrie out for a special dinner at

California Grill

. As the Wishes fireworks erupted in the background, he proposed with a ring inspired by Carrie's favorite Disney Princess: Aurora. He even presented her with a floral corsage, a tiara, and had the restaurant play the iconic song from Sleeping Beauty: "Once Upon a Dream".

When deciding their wedding venue, it wasn't much of a debate. When Carrie was just 5 years old, she told her parents she would get married at Walt Disney World. Disney has also been a part of their whole relationship, and they make frequent visits several times each year. Soon after the proposal, they set up a date with the Disney Wedding Planners and got to work. Just like the engagement, the wedding was inspired by Princess Aurora. The colors, the dresses, and the décor all brought in a little touch of Sleeping Beauty.

Their favorite part of it all was during the ceremony at Disney's Wedding Pavilion. Jubin said, "Saying our relationship was special would not do it any justice. We'd sacrificed for one another, made big decisions together, and she stuck by my side from the very beginning. Fast forward to our wedding day when Carrie was walking down the aisle, all those memories cascaded with every step she took closer to me." The bride shared the same sentiment, "His reaction showed me how much he loves me. That moment really made me feel as if happily ever after was attainable."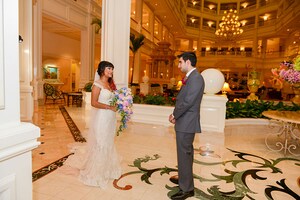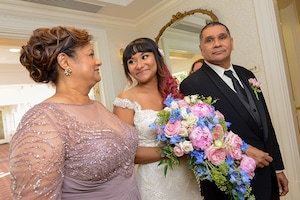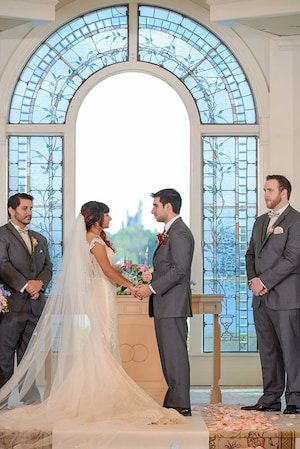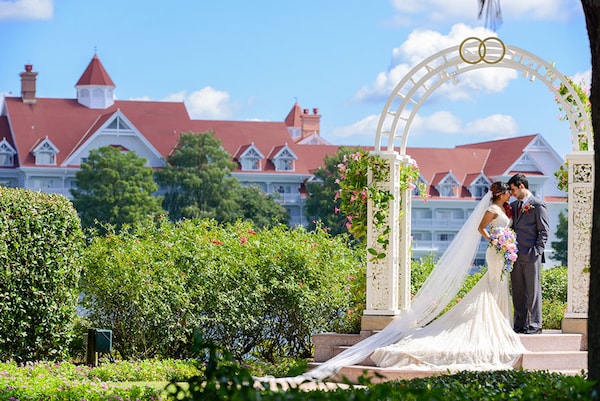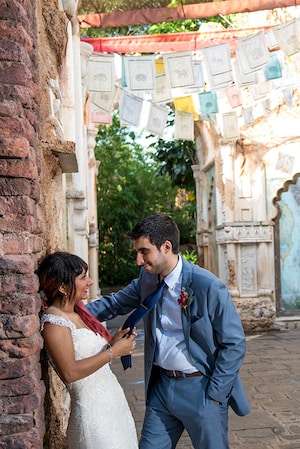 Images Courtesy of Disney Fine Art Photography