Shorty after Ian and Alexa started dating, Ian was deployed to Afghanistan- so their relationship consisted of emails and video chats with
a 12-hour time difference. Once they finally had the opportunity to go on real dates, they quickly caught up on lost time and as they say...the rest is history.
Alexa has always been in love with the magic of Disney and dreamed of marrying her own prince one day at her favorite place on earth. The couple had made their own memories at
Disneyland Resort
where Ian began to understand her love for all things Disney. As Disney Floral & Gifts delivered a
gorgeous
display of bouquets on the wedding day, it was in that moment it finally hit Alexa- she was about to marry her prince. Her dream of a Disney's Fairy Tale Wedding was right in front of her and she couldn't be more excited for the future.
After a beautiful ceremony at
Disney's Wedding Pavilion
, Alexa and Ian were mesmerized by the U.S. Marines sword arch awaiting them as they emerged as husband and wife. Just when they thought the day couldn't be any more perfect, they found Cinderella's Coach waiting to escort them to their reception at
Disney's Grand Floridian Resort Ballroom
filled with Beauty and the Beast inspired rose dome centerpieces and sparkle details as beautiful and bright as their love for each other.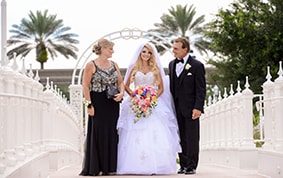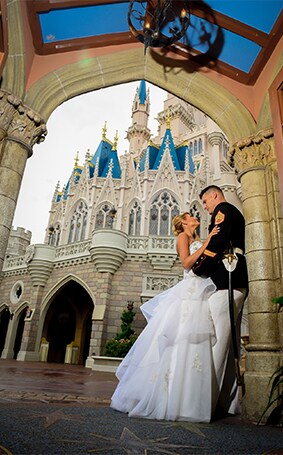 Happily ever after,