Looking to have some fun after your
Disney's Fairy Tale Wedding
? How about going for a swim at
Disney's Typhoon Lagoon Water Park
in your wedding attire?
That's exactly what Amanda and Carlos chose to do after their
Walt Disney World
nuptials.
Inspired by a photo found online, Amanda wanted to "
do something memorable and fun with her wedding gown." With a
Disney Professional Photographer
at hand, the couple arranged a "Trash the Dress" session at Disney's Typhoon Lagoon Water Park.
As they were escorted through the park, Disney Cast Members greeted them while music played over the speakers.
Once they reached the water, they made a run for it into the wave pool and enjoyed an unforgettable portrait session! With
the perfect balance of fun and romantic shots, this moment
ended up being the highlight of Carlos and Amanda's wedding week at Walt Disney World!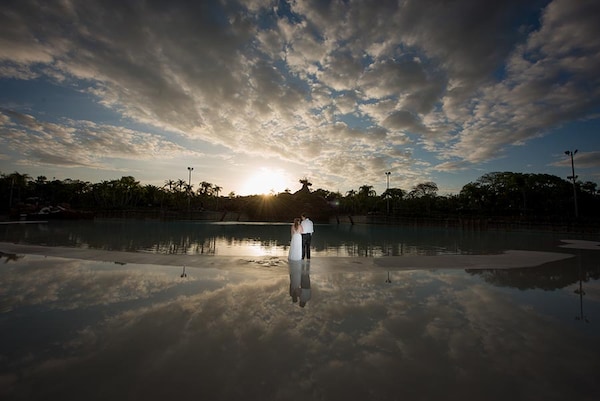 Keep following the blog this week to see Carlos and Amanda's amazing wedding!