The desire to host a sustainable wedding is increasing in popularity with more couples seeking opportunities to make eco-friendly decisions when it comes to their wedding.
At Disney, We Have a Long-Term Commitment to Sustainability.
The Walt Disney Company is committed to protecting the planet and delivering a positive environmental legacy for future generations as we operate and grow our business.
As part of Disney's long-term commitment to sustainability, which includes the continued and increasing usage of sustainable energy and zero-waste products, significant amount of Disney's food waste composted and used as soil for farming and more, and donating leftover food to various local organizations.
We're so excited more couples are seeking ways to embrace more sustainable wedding day options and we've pulled together some tips on how you can consider the environment when making wedding decisions.
Simple Ways to Host a More Eco-Friendly Wedding
Reusable Wedding Favors
Instead of opting to gift guests with items that will ultimately be thrown away, gift something that they will continue to use for years to come—throughout their Disney visit and even when they get back home. Not only is this a sustainable gift option, it is a memorable one which will continue to remind your wedding guests of your special day.
We love Corkcicle as a wedding favor because, it's a sustainable gift, but it's also stylish and gives you the option to customize the drinkware and even pick from unique Disney designs.
Built-In Décor
Pick a wedding venue that already looks stunning with minimal added décor. Any of our Disney park venues offer picturesque backdrops from Italy Isola, to Sleeping Beauty Castle, and more. No need to completely transform a venue to make it standout!
At Disney, we offer over 50 unique wedding venues. Explore some of our selection.
Plated Dinner
Instead of opting for a buffet, consider a plated menu. This allows for little excess food waste and more personalized food experience for each of your wedding guests.
At Disney, couples have access to our world-renowned Disney chefs who can help curate a meal that, not only is delicious, but also accommodates dietary restrictions and sustainable options.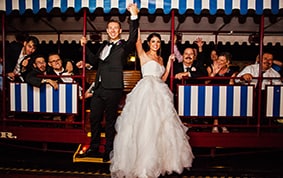 Shuttle Service
Instead of having your wedding guests transport themselves from your wedding events, consider a shuttle service that transports everyone as a collective group.
At Disney, your wedding planner helps to assist with wedding day logistics—including transportation!
We hope you were inspired along your wedding planning journey! Explore even more wedding tips and trends. And, if you're ready to start planning your own Disney wedding? Download our digital brochure to get started.