We're sharing tips and advice for writing personal, unique and romantic wedding vows.
Considering writing your own vows for your wedding? We love this idea because it's a fantastic way to personalize your wedding ceremony and celebrate your unique love story. However, we know writing your own marriage vows can seem daunting. So, we're here to help! We're sharing tips and advice on how to write wedding vows that are meaningful and memorable.
FIND INSPIRATION
Start the writing process by reading traditional wedding vows. Perhaps from a certain faith that you practice or even others to see what resonates with you. Make note of the phrases or themes that you like and use this as inspiration or even a guide to writing your own marriage vows.
DRAW FROM YOUR LOVE STORY
Take time to jot down notes about your love story. You can do this with your partner or separately. What made you first fall in love? When did you know you wanted to spend the rest of your life with them? Consider the hardships you've faced together and the magical moments you've shared.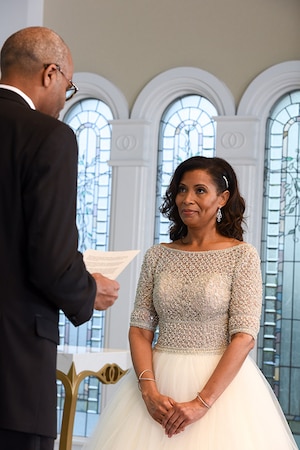 Take a look at Rochelle & Bill's romantic vow renewal.
AGREE ON A FORMAT AND TONE TOGETHER
You'll want to be on the same page when it comes to the tone and format of your vows. Are they going to humorous or poetic and sentimental. Will you make the same promises to each other or will they be completely different. These are all things to consider while writing your vows.
INCLUDE A STORY THAT REFERENCES YOUR LOVE
We love stories, and love stories are the absolute best! Take the opportunity to include a story that demonstrates your unique relationship. Your wedding ceremony is the perfect place to relive these memories with friends and family – even if they've already heard it.
MAKE PROMISES
After all, they are vows! The promises you make to one another are the most important part. Consider making promises that are broad in scope (ie, "I vow to always support you") but, you can also include specific promises that are a nod to your personal relationship.
THINK ABOUT THE FUTURE
What do you hope for the future? Traveling together, starting a family, building a home. These are great things to celebrate and share within your vows. On the same note, it's likely that a future together will include challenging times. So, also include how you plan to handle these seasons of life together.
Find inspiration from real couples' weddings at Disney.
KEEP YOUR VOWS TO A COUPLE MINUTES
Make your vows meaningful but that doesn't mean they have to drag on. If you're running long, review your vows and keep the sentiments and promises that are most important. If you have a lot more to share, consider writing letters to your partner to read on the morning of your wedding.
PRACTICE
Yes, we're serious! Practice saying your vows out loud. You don't want to have to read your vows word for word. Instead aim to make them sound more conversational.
MAKE AN EASY-TO-READ COPY
Finally, make an easy-to-read copy for your ceremony. Whether you need to type up your vows in a large font. Or, you want to separate sections into paragraphs to make it easier to read. This will be helpful when it comes time to proclaim your vows to your partner on your wedding day.