When it comes to one of the most important days of your life, the day you decide to enter into an engagement towards marriage is definitely up there. You want it to be memorable and magical because it is truly a once-in-a-lifetime experience!
Did you know Disney is one of the most popular destinations to pop the question? That's right! From the dreamy backdrops, enchanting experiences, and picture-perfect opportunities, it's a wonderful place to say "YES."
But, with so many parks, resorts, restaurants, and experiences it can be hard to decide where and how you want to propose at Disney. So, we've pulled together some of our favorite and most popular wedding proposal ideas to provide a little inspiration!
A Romantic Firework Cruise Across Bay Lake
Set sail across Bay Lake in front of Magic Kingdom at Walt Disney World as the fireworks shoot off above. Choose a dessert cruise or a private boat ride, either way it will be magical and you're sure to get a swoon-worthy photo too!
Cinderella's Royal Table
Dreaming of a royal proposal? Step inside Cinderella Castle for a fine dining experience! From the decadent interior and the incredible service, you're sure to have a magical experience. We even offer a special proposal option with a photographer and glass slipper ring presentation!
Along The Hawaiian Beaches at Aulani
Nothing is as romantic as a sunset stroll on the sandy beaches of Hawaii! There are several picture perfect places to propose at Aulani, A Disney Resort & Spa. Follow the proposal moment with a day at the spa, an immersive dining experience or a water sport activity. No matter what you choose to do, it's sure to be memorable!
At the Wishing Well in Disneyland
One of the most iconic and beloved spots to propose is the Wishing Well at Disneyland. It's located on the right side of the castle courtyard and is a very natural place to propose. Drop a coin in the well, make a wish, and drop to a knee – how romantic!
On Disney's Private Island, Castaway Cay
Dreaming of a more intimate moment to drop to one knee? Then a proposal on Disney's private island, Castaway Cay, is a perfect option! Rent a private bungalow and wait for the perfect time to ask the love of your life to marry you.
After a Run Disney Race
Do you and your partner enjoy being active? You may want to consider an iconic proposal at the finish line of a Run Disney Race! Enjoy the cheers and congratulations, it's sure to be an exciting moment.
In Front of an International Backdrop
Who says you have to travel far to have the stunning international backdrop to your marriage proposal?! Whether it's the Temple of Heaven, the Eiffel Tower, or a Moroccan courtyard, you have plenty of iconic scenes to choose from at Epcot. After your proposal, enjoy a fine dining experience at a completely immersive restaurant within the World Showcase!
Wild Africa Trek at Disney's Animal Kingdom
For the more adventurous couples, the Wild Africa Trek at Disney's Animal Kingdom is an exciting spot to drop to one knee!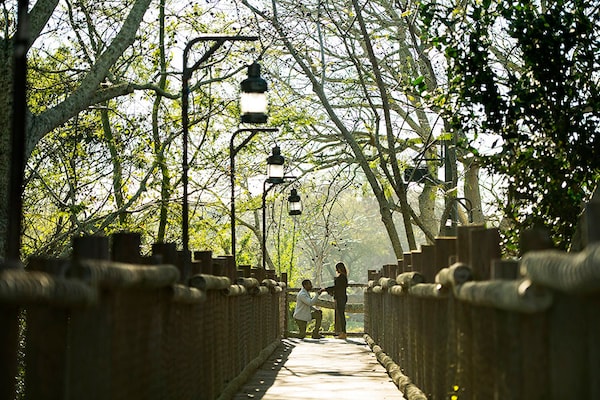 With the help of a Disney Engagement Planner
If you want to create a truly one-of-a-kind proposal, our team of Disney Engagement Planners are here to make your fairy tale a reality! From locations, to food and beverage, entertainment and more, we handle all the details so you can enjoy the moment. Call today to begin planning a magical Disney proposal: Call (321) 939-4610 Option 4, to learn more