When it comes to magical moments, nothing truly compares to a marriage proposal. If you have been dreaming of a Disney engagement but aren't sure where the special spot should be to ask that important question""don't worry! We have compiled a list of some of the most romantic places at our parks and resorts around the globe that will be the perfect backdrop to your special moment.
In front of a castle.
Everyone should feel like royalty during one of the most romantic moments of their life! A proposal in front of a Disney Castle is sure to be memorable""and it will continue to be special place that you can visit together to remember the romantic moment.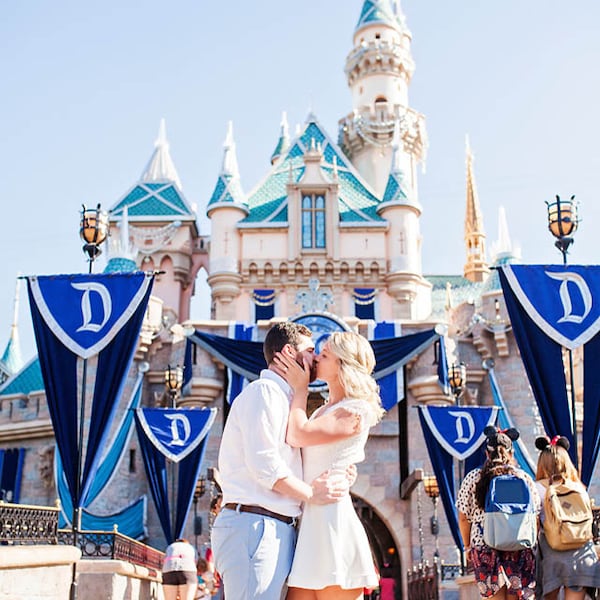 On the beaches of Hawaii at Aulani, A Disney Resort & Spa.
When it comes to romance, a Hawaiian beach is the ultimate destination. There are so many possibilities amid the tropical splendor of O'ahu! And, our Disney Weddings team can help you create the perfect beach proposal.
After you have "Popped the Question" celebrate with your favorite Disney Character
After the proposal, who better to share the news with than with your favorite Disney Character! Make sure to stop by and say hi and show off your ring. It's a fun and memorable way to bask in the excitement all day long!
At your favorite Disney Resort.
A carriage ride at Port Orleans, or a walk along the trails at Wilderness Lodge, or in the Adventure Lawn Gazebo at Disneyland Hotel--there are so many magical places at our Disney resorts that make for a scenic and picturesque destination to "pop the question."
With a firework backdrop.
Fireworks can transform your proposal into a truly romantic experience. Whether you choose to ask the one you love to marry you on a private boat ride across Seven Seas Lagoon as the fireworks shoot off above your heads, or along the beach at Polynesian Resort--there are many romantic spots with a great view of the fireworks that are sure to make your proposal stand out from the rest!
On your favorite Disney attraction.
For those who want to add a little fun to their proposal, you might consider incorporating your favorite Disney attraction. There are fun photo opportunities on a lot of our iconic rides which can provide the perfect moment to ask the question and it makes for a great proposal story to share with your family and friends later!
No matter where at Disney you choose to "pop the question," it's sure to be magical. Make it extra memorable by including places, characters, or attractions that hold a special place in your heart's. If you want a little extra Disney pixie dust to help you prepare for the big moment, then we've got you covered with a wide variety of experiences, enhancements and customizable offerings. And, don't forget to tag us in your Disney proposal photo so we can share in the excitement!