A new year brings with it new ideas, influences and priorities that can shape couples' wedding day. This year, we anticipate our couples to incorporate many of new wedding trends as part of their festivities! From finding unique ways to personalize experiences for their guests, to encouraging more meaningful moments throughout their day, to evolving the "traditional" wedding timeline – we're loving the 2021 wedding trends.
Find out what emerging wedding trends we expect to see a whole lot more of in 2021!
Smaller Guest Counts
More intimate guests counts is still expected to be the norm for couples in 2021. Whether it's experience or safety that is driving the decision to limit attendance, there are many benefits to hosting a smaller wedding. It allows couples the opportunity to customize elements of their wedding, surprise and delight their wedding guests, and foster more authentic moments throughout the day.
Non-Traditional Registry
More and more couples are choosing to live together prior to getting married, which means they've already started to accumulate some of the more "traditional" wedding registry items. So instead of asking for household items, couples are opting to be gifted experiences instead. Something they can enjoy on their honeymoon like a dinner or activity!
Did you know we offer a Disney's Fairy Tale Weddings honeymoon registry? Learn more here!
Assigned Seating
Non-assigned seating is a thing of the past! With smaller guest counts there's more opportunity to customize seating charts and personalize name cards. This is a great way to make your guests feel comfortable at your event as well! No more awkwardly scanning the room for available seats, instead you've created a designated space for each individual guest.
Yellow Gold
Yellow gold is becoming increasingly more popular and we anticipate couples will opt for this finish for their engagement rings, wedding bands, and fine jewelry.
Take a look at Disney's Fairy Tale Weddings engagement ring collection. All rings are available in yellow gold!
Intimate Bridal Bouquets
Delicate, small bouquets are becoming more popular. We love an oversized organic bouquets, but there's something so romantic about a intimate floral arrangement. Find ways to plus-up your smaller bouquet – using ribbon, special jewels or opting for a non-traditional shape to make your floral arrangement stand out.
The Welcome Box
A fun trend that we absolutely love for destination weddings, is the welcome box. And, with a smaller guest count, providing a welcome gift for guests is more doable. This is a great way to surprise and delight your guests, and can be a meaningful way to share your love story or even showcase the things that are important to you as a couple.
From mickey ears, to your favorite Disney park treat, or something that brings your wedding theme to life – don't be afraid to have fun and be creative with the gift elements!
Mismatched Seating
As you look for ways to achieve physical distancing with style, mismatched seating arrangements is a fantastic option and rising trend. You're able to create a cozy and intimate setting all while maintaining space! It also offers another opportunity to personalize the experience for your guests. What wedding guest wouldn't want a special seat just for them?!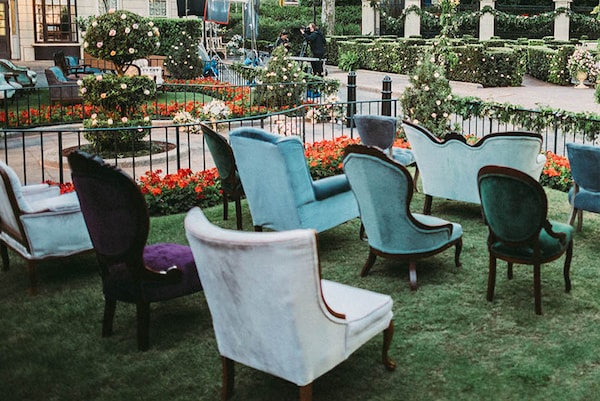 Weekday Weddings
More and more couples are realizing the benefits of a weekday celebration – there is typically flexibility with availability, it can be more cost effective and you can turn your wedding celebration into a week of festivities. And, with smaller guest counts, couple's don't have to consider so many people when choosing their date which can provide more opportunity to consider non-traditional days of the week for their wedding.
Coordinated Dress Codes For Wedding Guests
Another trend that is on the rise are dress codes for wedding guests! This creates a shared experience and "tribe" like atmosphere for you and your guests. Invite your guests to immersive themselves in the event and dress the part! Whether it's black and white color scheme for a sophisticated evening wedding, or tropical colors for a daytime beach wedding, there's a lot of opportunity to influence your guests' wardrobe! Not to mention, coordinated dress codes make for fantastic wedding photos.
Lots of Mini Toasts
Finally, one of our favorite wedding trends we anticipate to see a whole lot more of in 2021, is mini toasts. Many couples are opting not to host dance parties in an effort to maintain physical distancing, allowing for alternate entertainment options. And, with smaller guest counts, it's more likely that the people in attendance have a close and meaningful relationship with the couple and are happy to share a few words of encouragement or perhaps a favorite story of the couple. We expect more couples to give more time for toasts at their wedding receptions and opening up the opportunity to loved ones that extend beyond the traditional maid of honor and best man. Considering a grandparent, a niece or nephew, or an aunt or uncle!
So, there you have it! The 2021 wedding trends we're most excited to see a whole lot more of this year. Which one is your favorite? Share with us @DisneyWeddings and #DisneyWeddings