The wedding guest experience has become even more of a priority for couples planning weddings. Couples are looking to, not only impress their friends and family, but find ways to honor and thank their guests for being a part of their love story.
At Disney Weddings, we see this unfold in many creative ways. Whether it's a custom place card for each wedding guest, a special song tribute to an honored guest, or a cherished family recipe incorporated into the wedding menu.
But, for couples planning a Disney Wedding, they also get access to uniquely Disney experiences that they can share with their friends and family. Experiences that are truly "once-in-a-lifetime" and will have guests talking for years to come.



ATTRACTION MIX-IN ON YOUR FAVORITE DISNEY ATTRACTION
Couples marrying with Disney Weddings have the special opportunity to add on an attraction mix-in to their wedding festivity itinerary. After dinner, before the dancing begins, invite your wedding guests to join you and walk right up and ride your favorite Disney attraction!
Nicole and Joe surprised their wedding guests with a ride on Soarin at EPCOT. This is what they shared of their experience, "One of our favorite moments was surprising every single one of our guests with a ride mix-in on Soarin. The cheering, laughter and excitement that was felt when we told them and as we walked onto the ride, is something neither of us will ever forget. I mean, does it get any better than walking through the park with your family and friends while enjoying a private attraction together??!!"
SPECIAL FIREWORK VIEWING
Another special experience couples can treat their wedding guests to is a viewing of the nighttime spectaculars. From World of Color at Disney's California Adventure to a private viewing area of Harmonious at EPCOT. This is a magical moment you and your guests won't soon forget!
Katie and Andrew shared, "If we were having family travel to the most magical place on earth for our special day we wanted to showcase and highlight the best of what Disney has to offer. It was also very important to us that for our guests who had never been to Disney, or had a child's view of Disney, to show them the luxury Disney has for adults.
IN-PARK WEDDING
One of the most popular, and uniquely Disney wedding experiences, is getting married inside a Disney Park while no one else is there. This exclusive, and rarely experienced, moment is sure to delight guests and leave a lasting impression.
Veon and Sean wanted to ensure that their guests could feel the magic that they both adore. "We wanted them to feel like they were submerged in a new world. An enchanting one where they could forget about reality and channel their inner kid."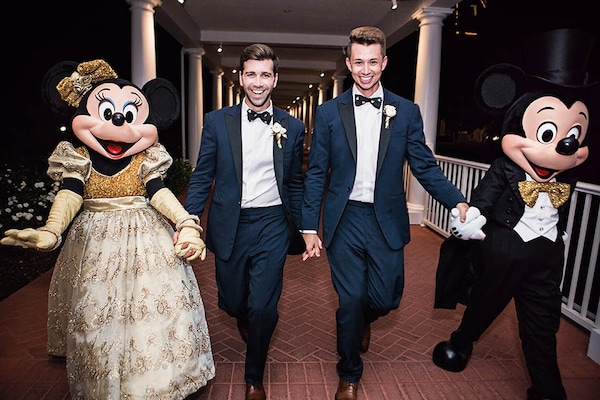 IMMERSIVE ENTERTAINMENT
Couples getting married with Disney Weddings also have access to our team of Disney Entertainers! From specialty musicians, to beloved Disney characters, magicians, and artists there's a whole world to explore when it comes to wedding day entertainment.
Yvette and Joshua shared about the unique entertainment they included at their wedding, "We tried really hard to make sure that the wedding reflected a lot of our personality. Having the wedding at Disneyland was one part of this. Instead of some of the traditional wedding events, like a first dance, we opted for 1920s dancers to come in and teach everyone the Charleston, so that we could all dance together. Overall it was a great time with our best friends and family."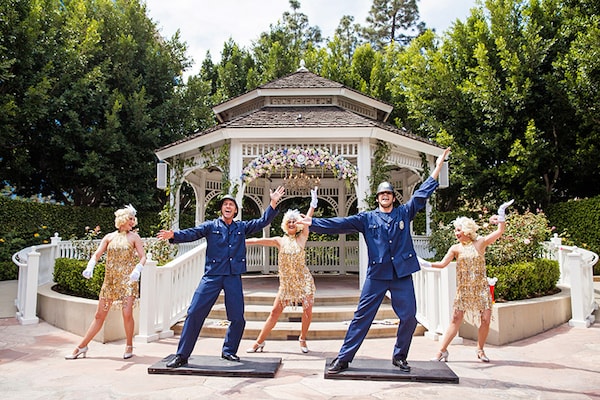 When it comes to planning weddings, our Disney Weddings team is passionate about understanding our couples' wedding vision and bringing their fairy tale to life in magical and memorable ways – both for them and their wedding guests.
We love how Katie and Andrew put it, "Having a Disney Wedding is so unforgettable. I say that not only in the sense of the location, but because of all the extra things that Disney's Fairy Tale Weddings is able to bring to the table that no one else can. Like having Characters at your reception, or having a private firework party. No where else gives you the "feels" that Disney can give you, and that to me, is so unique, that it's priceless."