Meghan Markle and Prince Harry's royal wedding is just days away! And, if you're anything like us, then you're anxiously awaiting all the royal wedding details. But, perhaps the most anticipated detail of the special day yet to be revealed is what wedding dress Meghan will wear to walk down the aisle.
Like every element of a royal wedding, there are wedding dress traditions that we expect Meghan Markle to include in her bridal attire.
One of those traditions is including lace on her wedding dress. The tradition began in 1840 with Queen Victoria's wedding dress. More recently, Kate Middleton included lace on her sleeves - which is now an iconic element of her wedding dress many brides have emulated.
Lace is a romantic and elegant wedding dress detail that transforms any bride into a princess. Here's a few photos from some of our Disney Brides in stunning lace dresses. Perhaps it will serve as inspiration for Meghan!
Another royal tradition is wearing a wedding dress with sleeves. A princess' dress must be significant, but it must also be modest - including sleeves is an obvious way to fulfill both requirements.
Here are some photos from our very own royal brides in enchanting wedding dresses with sleeves - similar to the British royals!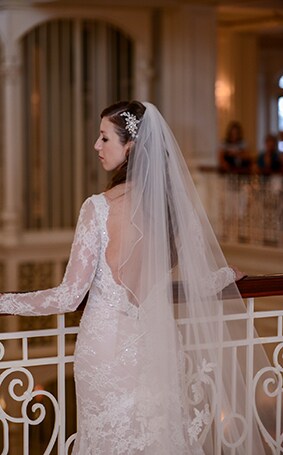 The final tradition we hope Meghan includes on her wedding day is wearing a tiara. These stunning heirlooms are the epitome of royalty. Traditionally passed down through generations, tiaras are a symbol of the historical significance of the special occasion.
Here are some of our beautiful Disney Brides wearing tiaras!
Follow along with us all week as we share some of our favorite royal wedding tips, trends and traditions leading up to the historical event.
Whether you're wishing for an intimate beach ceremony or an extravagant castle wedding "" we are here to make your fairy tale a reality. For more information about planning your Disney wedding, request our free wedding brochure.