We've already seen the Pantone Color of the year all over our Disney Weddings decor!
So, today I am going to share with you some of the ways our
Disney couples
are including this regal hue throughout their wedding day and hopefully leave you with some inspiration for your big day.
First, what is the Pantone Color of 2018? It's a stunning shade of purple known as Ultra Violet!
According to the
Knot.com
, "
Ultra Violet is a deep, blue-based purple""darker than lavender, cooler than plum, but brighter than eggplant." We love this color because it is so versatile! Whether you're dreaming of a regal event or a light whimsical Disney Wedding, this color truly fits with any theme!
Take a look at how our couples are incorporating this shade into their Disney Wedding.
Bridesmaid Dresses
A color that stays in season all year round, Ultra Violet is a perfect choice for bridesmaids dresses. It stands out from the background and makes for stunning bridal party portraits. Pair with simple white floral or enhance the purple dresses with a vibrant bouquet.
Wedding Floral
One of my favorite places to add a pop of the Pantone Color of the year is throughout your
wedding floral
. It's a fantastic accent color but it also shines as the primary color as well!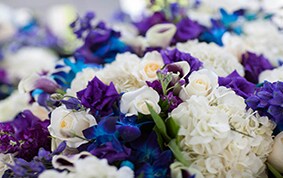 Reception Lighting
Another fun place to add a bit of Ultra Violet is through decor lighting. Uplighting can transform any space into something unforgettable. Take a look!
Wedding Cakes
With the help of our talented
pastry chefs
, you can create a one-of-a-kind wedding cake. Include Ultra Violet lights, flowers, projections...whatever your heart's desire!
Lounge Furniture
Last on our list today, is wedding furniture. I love how furniture can transform a space into an intimate environment. Take a look at how some of our Disney Wedding couples have incorporated the Pantone Color of the year through furniture!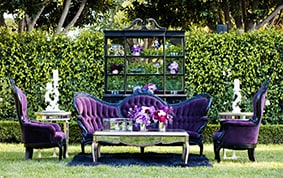 What did you think? Are you going to include Ultra Violet into your wedding color pallet?