Have you celebrated a romantic milestone at Disney? Whether it's a proposal, bachelorette trip, wedding, vow renewal, honeymoon, or anniversary—we want to celebrate your love story on the Disney Weddings social media accounts. Keep scrolling to see how you can submit your story for consideration.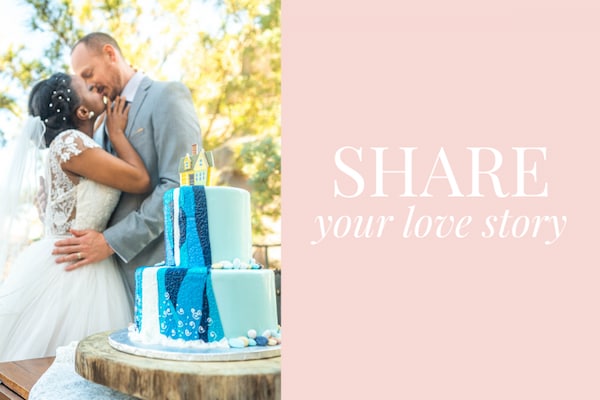 Love deserves to be celebrated—and one of our favorite ways to honor romance and inspire couples is with our Real Wedding features. These stories highlight the magical photos and details of romantic celebrations that take place at Disney destinations around the globe.
We are always searching for new stories to highlight and look to our couples to help us curate these posts. If you're interested in being featured on the Disney's Fairy Tale Weddings & Honeymoons social media accounts, follow the steps below to submit your fairy tale.
What kind of stories are we looking for?
A life together is made up of romantic milestones—from falling in love, to engagement, a wedding, honeymoon, anniversary trips and vow renewals. We're interested in featuring all these types of stories on the Disney Weddings social accounts! All you need is quality photos to share along with your romantic Disney experience.
How to submit your love story?
To be considered for a social feature, fill out the "Share Your Story" form.
Find inspiration from past couples!
Scroll through our Instagram feed and read through real wedding blogs to find inspiration from Disney couples.
We're excited to hear from as many couples as possible! Unfortunately, not all submitted stories will be used. Couples whose stories are being considered for publication will be contacted by a Disney's Fairy Tale Weddings & Honeymoons Cast Member for additional information.