Congratulations! You're engaged to the love of your life and it's time to make your dream wedding a reality. No need to be anxious about the planning details because your Disney Wedding Planner will be with you every step of the way.
We know you probably have some questions about planning a
Disney Wedding
so we're answering them below!
When can I start planning my Disney Wedding?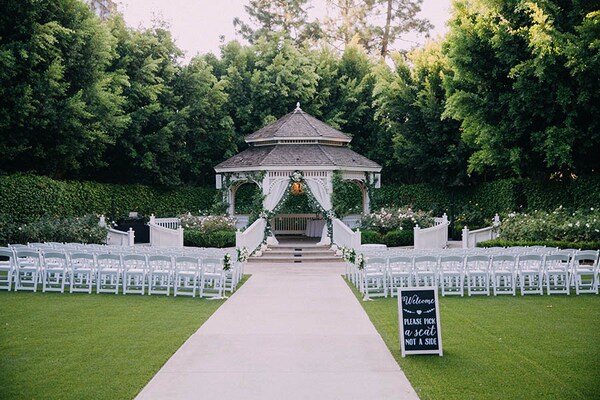 Our team is so excited to meet you and begin planning your fairy tale wedding! We can start planning with you 16-12 months ahead of your anticipated wedding date. At which point, you can call or email our team to schedule a time to discuss next steps and planning details.
What details should we have confirmed before contacting Disney's Fairy Tale Weddings?
We encourage our couples to have an idea of their anticipated guest count, budget and wedding date. This will help your Disney Wedding Consultant recommend venues and experiences that match your wedding vision.
Who is going to help me plan my Disney Wedding?
Your Disney Wedding Planner is your main point of contact and will help bring your dream wedding to life. But, we also have a dedicated team of wedding experts who will be involved in your wedding planning experience.
When you first reach out to begin planning your Disney Wedding you will be paired with a Disney Wedding Consultant who will help you identify some of the high-level details like your wedding date, wedding venue, and estimated budget.
You will then be paired with your Disney Wedding Planner, who will work with you to understand your wedding vision and make it a reality! They handle all the details so all you have to do is enjoy the experience. Throughout your wedding planning process you will meet your Disney Wedding Florist, your Disney Wedding Chef, and your Disney Wedding Photography team. They will work with your Disney Wedding Planner the create a magical experience for you and your guests.
How can I get in touch with Disney's Fairy Tale Weddings to start planning my wedding?
We would love to connect with you! To get in touch with our Disney Weddings team, you can fill out our
Contact Us
form on the website, call us at 321-939-4610 or email ContactUs@DisneyWeddings.com.
When it comes to celebrating your love story, we're here to make
your
fairy tale a reality. From beaches to castles, our global destinations provide the perfect backdrop to
your
romance. And our team of dedicated Disney Wedding Consultants will coordinate every detail so that you can enjoy your special day. Whatever
your
wish, we've got the magic to make it happen.
Let us make your fairy tale a reality! For more information about planning your Disney wedding, request our
free wedding brochure
.