One of the many reasons I love engagement sessions is because they allow couples the opportunity to showcase their personal tastes. Are you a very formal pair? Opt for heels and a fancy dress. Are you most comfortable in jeans? Bask in engagement bliss by donning your favorite pair of denim. If you're a mix of both, take some tips from Cassandra and Cesar who perfected the art of both a formal and casual engagement session.
A lacy dress and button-up shirt showed the more formal side of the couple while they strolled around nostalgic
Disneyland
. And when it was time to hit up
Disney California Adventure
they changed into their favorite causal outfits that went perfectly with their carnival-inspired theme. Both looks are so cute- and completely different- that I can't seem to pick a favorite!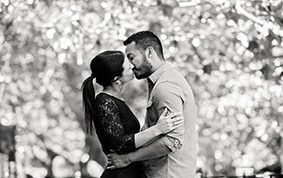 Never stop playing dress up,