Calling all Disney's Fairy Tale Weddings and Kleinfeld brides! We've rounded up a few of our favorite Disney ceremony locations and are dishing ways you can "say yes" to the perfect bridal style to compliment your wedding venue.
Located at the front of Main Street, U.S.A., the Magic Kingdom Train Station offers sweeping views of Town Square and Cinderella Castle. Your friends and family will delight in this majestic backdrop as you prepare to start your happily-ever-after. To mirror the conservative look of the early 1900s setting, try gowns with necklines such as a bateau or scoop. If you want a hint of sexy to wow your guests, opt for a slit. With an amazing backdrop like this, less is definitely more!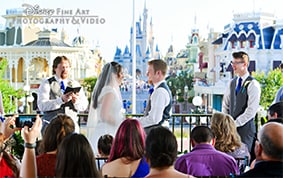 Listen to the soft Hawaiian ocean breezes when you say your vows in this gorgeous, natural setting at Aulani, A Disney Resort & Spa. Delight in the exquisite beauty and privacy of our Lanikuhonua venue, referred to by some as the "gem" of wedding locations. With this airy ocean setting, stick to light fabrics and slim silhouettes like this Pnina Tornai with the perfect Hawaiian floral sequin embellishments. If you prefer a short beach look pair it with a fabulous shoe- or go barefoot!
Celebrate amid movie sets and lifelike figures while your guests move through three movie-inspired courses at The Great Movie Ride. Follow the yellow brick road and pair some ruby slippers with a ruby red gown of satin and tulle. If you want to make your own special movie moment, opt for a sleek, high neck sheath from Viktor & Rolf embellished with a waterfall of bows down the back.