On this day, 27 years ago, Disney's Wedding Pavilion opened its doors for the very first time. Since then, countless love stories have been celebrated in this iconic and beautiful Disney wedding venue.
The stunning pavilion, located at Disney's Grand Floridian Resort & Spa at Walt Disney World, was specially designed to offer a magical view of Cinderella Castle. In order to achieve this view, the purpose built wedding venue was constructed on its very own private island.
Only accessed by a bridge, Disney's Wedding Pavilion offers all the amenities a couple would need on their wedding day. From luxurious rooms and suites the couple and their wedding party can enjoy before the ceremony, to bathrooms with a little extra Disney magic.
Referred to as our "crown jewel", this bright and airy ceremony space is adorned with seven crystal chandeliers and intricately ornate stained glass windows. The 75 feet aisle leads to an elevated altar area framed by the view of Cinderella Castle.
Disney's Wedding Pavilion also offers plenty of dreamy photo spots, one of them being Picture Point, located right behind the pavilion with sweeping views of Seven Seas Lagoon and Magic Kingdom.
Over the past 27 years, Disney's Wedding Pavilion has been a place where love is celebrated. We're honored to have been a part of so many unique and special love stories and we look forward to all the fairy tales yet to be celebrated in this one-of-a-kind wedding venue.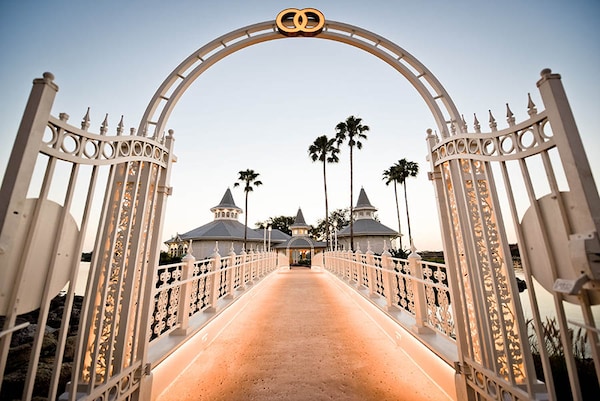 Interested in touring Disney's Wedding Pavilion? View our Open House dates and get directions here. You can also explore our list of Walt Disney World wedding venues.