In our eyes, every couple should be treated like royalty and when it comes to making fairy tale wishes comes true - we have the magic to make it happen.
In honor of Prince Harry and Meghan's wedding, we partnered with Good Morning America to give one lucky couple,
Alexis and Jay
, a royally inspired wedding. Every detail of the extravagant event was mimicked after the British royal weddings of the past. We also took some ques from what we think Meghan and Harry might include on their wedding day and incorporated those details as well!
A Royal Transformation
Before the wedding bells could ring, Alexis and Jay were outfitted for the regal occasion. The bride wore a stunning Pnina Tornai wedding dress provided by Kleinfeld. Jay was suited in a traditional British cutaway suit provided by The Tux Shop.
Alexis was a true princess, getting ready for her wedding day inside Cinderella Castle. Take a look!
The Fairy Tale Wedding
When it came to planning Alexis and Jay's wedding, our Disney Weddings team took a lot of inspiration from historic royal weddings. First, the venue had to be iconic. British royals always marry in decadent and lavish locations so when it came to choosing the venue there was no question - it had to be
Cinderella Castle
.
Next, we decided on key decor elements. Royal weddings typically follow a color pallet that consists of greens, whites, and golds. So, we chose to incorporate white garden roses, white peonies and lush greenery. Because we're in such a grand location, we kept the decor simple and classic. We used gold chiavari chairs with white cushions and glass vases to enhance the splendor of the venue.
Since this was a wedding fit for royalty, entertainment was an important role in the event. As the guests arrived and were seated, a string quartet played beautiful renditions of some of our favorite love songs. Alexis then arrived to the ceremony site via
Cinderella's Coach
. There were trumpeters to signify the beginning of the event and
Major Domo
who proclaimed the official start to the fairy tale wedding. Alexis and Jay also had several flower girls and pageboys (similar to the royals) who walked down the aisle ahead of the bride. To end out the extraordinary occasion, we positioned two confetti cannons on the side of the altar that shot off as they kissed! It was a beautiful Disney Wedding.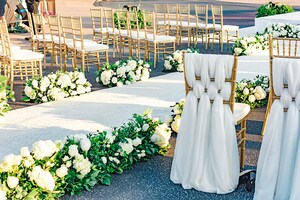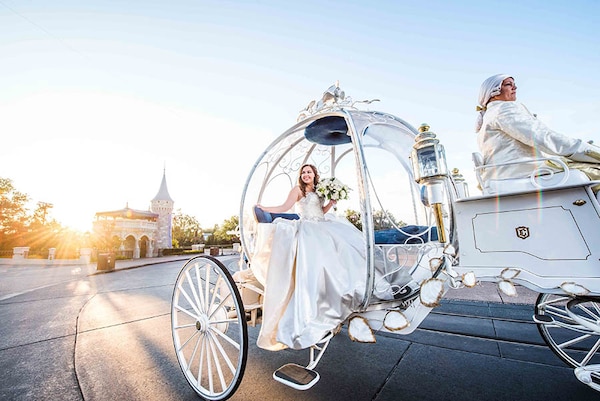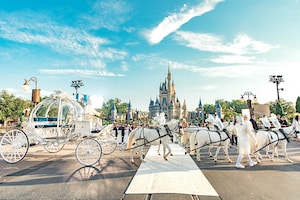 Our Disney Weddings team had so much fun getting to know Alexis and Jay and working with them to create the wedding of their dreams. We hope it reminded you of everything you love about weddings (and royals)!