Mirror, mirror on the wall...who has the chicest decor of all? Today I've channeled my inner sophisticated villain (think Regina from "Once Upon A Time") and present to you this fabulously evil wedding reception.
The endless flow of romantic roses, dazzling chandeliers adorned with ruby red crystals and the dramatic sparkling glassware seem to have been created by the Evil Queen herself. Don't be afraid to think outside the box (or the magic mirror) when hosting an evening soiree. While the villains may not be the good guys, they've definitely got some unbelievably stylish qualities we'd love to steal.
And remember- no poison apples are required!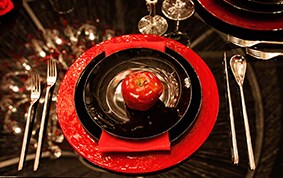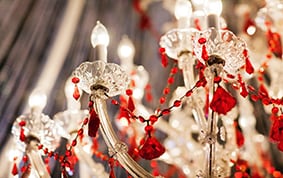 Mirror mirror,