Inspired by The Little Mermaid, th
e trendiest ocean party you ever did see has been brought to the shore to celebrate a love stronger than the tide.
Dive into this aquatic celebration filled with starfish, flawless pearls and a few thing-a-ma-bobs here and there. The dining room is surrounded by layers of various shades of blue tulle, so you'll feel as if you're really "under the sea" in a
romantic
grotto all your own.
The celebration is sure to go swimmingly well with bubbles floating above you and tropical floral
inspired by natural coral reefs
growing along the table
. Instead of candles, we've topped off the
candelabras
with Ariel inspired
dinglehoppers.
Cheer "bon voyage"
and enjoy this sleek reception as pristine as the sea.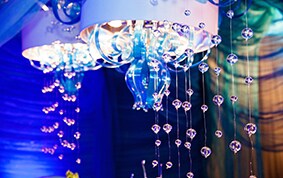 Life is the bubbles,