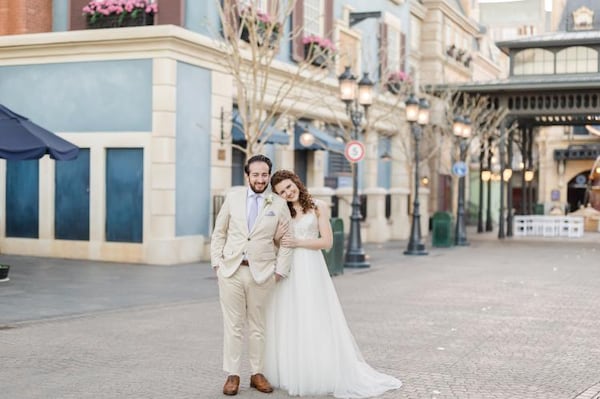 Meghan and Sil hosted an intimate Spring wedding inside of the France Pavilion in EPCOT. Starting with a ceremony at Place de Remy, followed by a beautiful brunch reception overlooking the water at Terrace des Fleurs. Their Disney wedding was complete with springtime floral in lavender hues, and lots of smiles! Keep reading for all the details from their day.
"Our wedding was a relaxed, small ceremony and reception with just close family. We loved the idea of having a small, intimate wedding where we would get the opportunity to spend time with every guest, as well as giving us the budget to do the little extra things that mattered to us, like our Welcome Dessert party at Hollywood Studios to watch Fantasmic, as well as our attraction mix-ins on Mickey and Minnie's Runaway Railway (at our welcome party) and Remy's Ratatouille Adventure (at our wedding)."
Beginning the day with a first look!
At their Disney's Coronado Springs Resort, the couple shared a sweet first look before traveling to EPCOT for their wedding day festivities.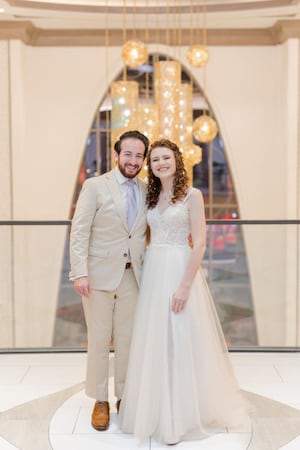 A wedding ceremony in France!
For their wedding ceremony, Meghan and Sil chose Place de Remy, a stunning venue inside of the France Pavilion in EPCOT. The Parisian setting, coupled with the couple's French lavender theme, made for a romantic Spring wedding.
"My favorite moment of the day was when we first walked into our ceremony venue at Place de Remy. We had been communicating with our planner and florist on how we wanted everything to look, but seeing it actually come together in real life was magical. It was exactly as I had imagined it to be. Being in the quiet park all by ourselves with the most beautiful ceremony setup was definitely worth the early morning wake-up call!"
Following their wedding ceremony, the couple took some time together to soak it all in, taking portraits around the France Pavilion before meeting their guests for their wedding reception.
An idyllic wedding reception!
For their wedding reception, the couple and their guests enjoyed brunch overlooking the water at Terrace des Fleurs.
"With our wedding being in the France Pavilion, we wanted to incorporate French theming into our decor, with a touch of Ratatouille mixed in! French lavender was the main theme, with lavender and white as our colors. All our tables were named after characters from the Ratatouille movie, and it was such a cute little touch!"
We're in love with all the little romantic details that made up Meghan and Sil's Disney Wedding, and wish them all the best!
"Disney has always been my safe space to escape from the everyday and immerse myself in the magic. Getting to have all our closest family together in our favorite place just felt right. We knew that a Disney wedding was in our future from early on in our relationship- where else would two Disney lovers get married!"